I still remember the first time I went out with my parents when I was six years old. I bounced around on the hotel bed and was excited all night.
Remember the first two days of that year and parents for the first time to fly from Beijing back to Shanghai , and later when I mentioned my mom has been taking off in the exceptionally tight expression.
Remember the first time with Mommy went to work after Hong Kong , the first time with Mommy Tours, a little nervous, worried that their guides do not good enough.
I have taken Mommy to many places, Hong Kong , Japan , South Korea , this time I decided to go a little bit farther- Singapore .
Selected Singapore for two main reasons, for the country with the free exercise of the journey Mummy can not be too hard, basically I have selected some of the traffic is convenient Ayutthaya city; in Europe , the Americas tour a long time, Walks relatively high degree of difficulty more, worried about their advance preparation work done is not sufficient, it affects the quality of travel, and Asia Tours relatively simple, so basic in Asia within the scope of Japan and South Korea have played, this time wanted in Southeast Asia selected a range of Singapore as a safe country, modern, nature is preferred.
Afraid that everyone will be bored reading a large section of text, let's order an appetizer first.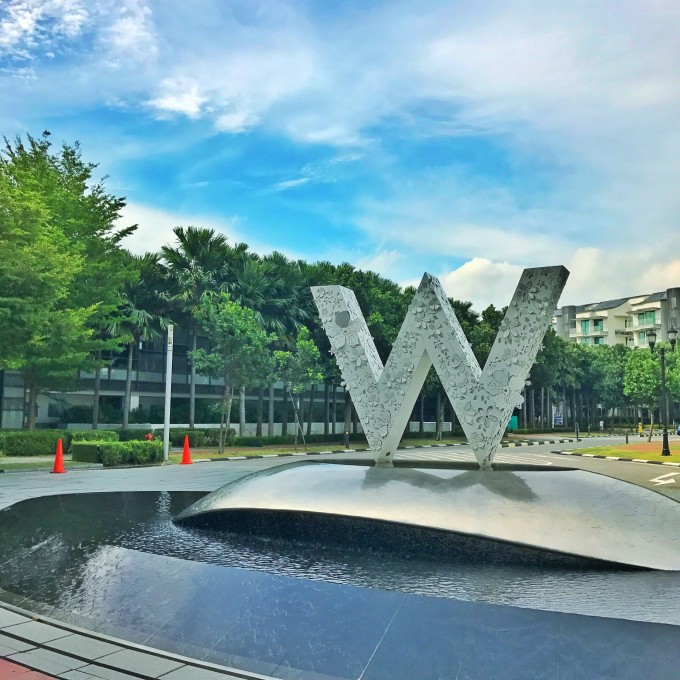 W Singapore Sentosa Cove
Merlion Tower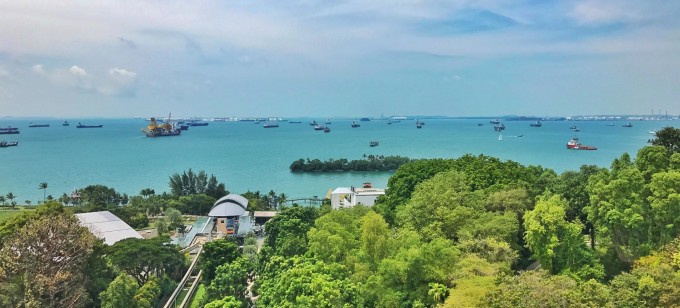 Merlion Tower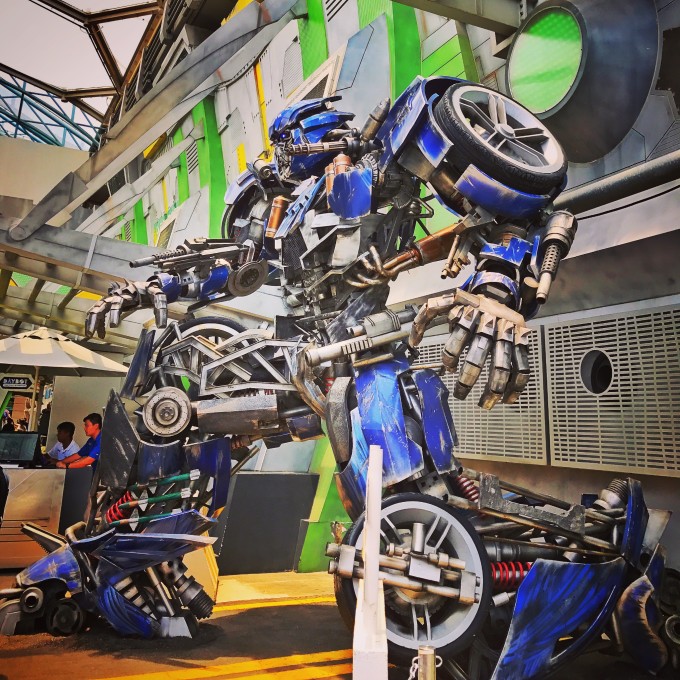 Universal Studios Singapore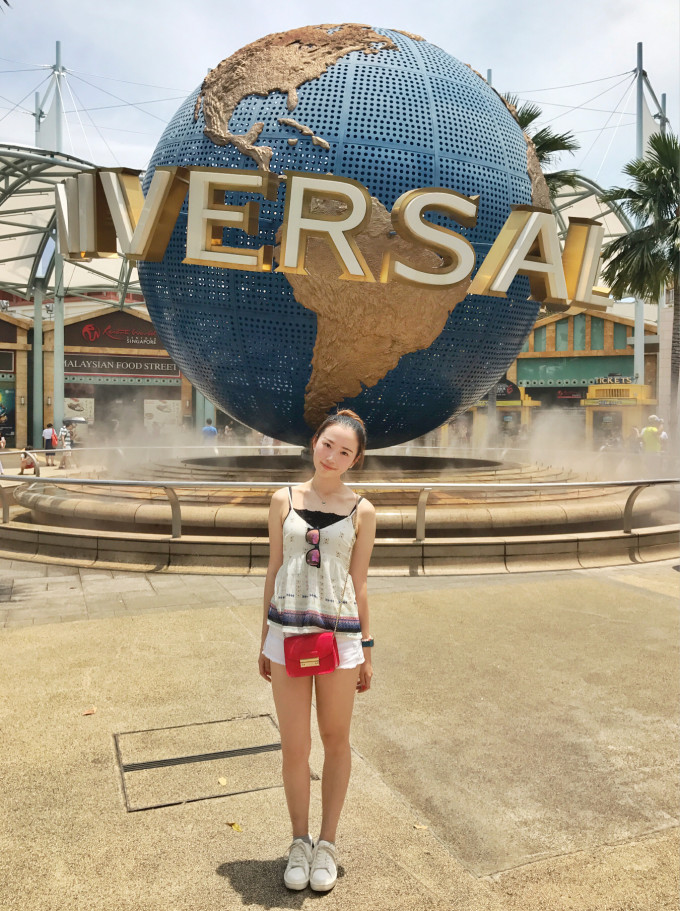 Universal Studios Singapore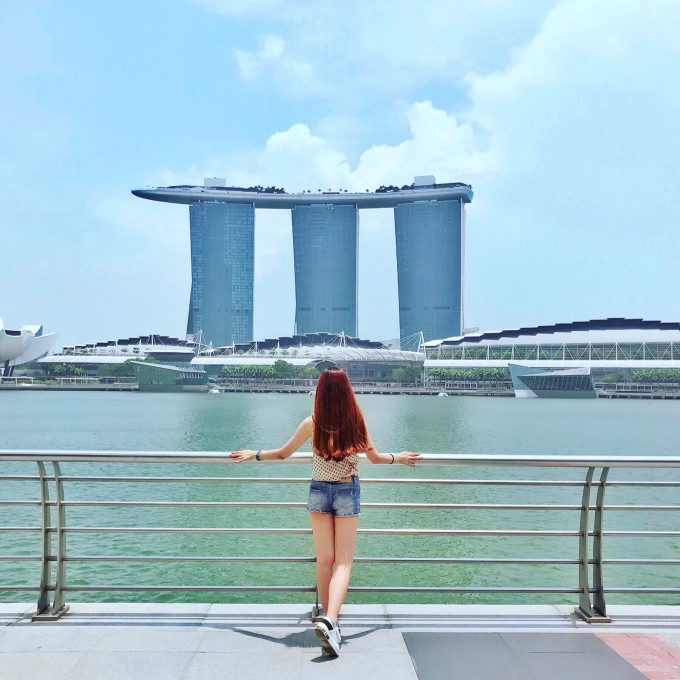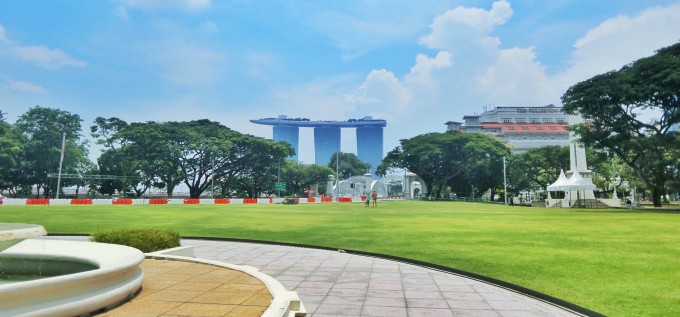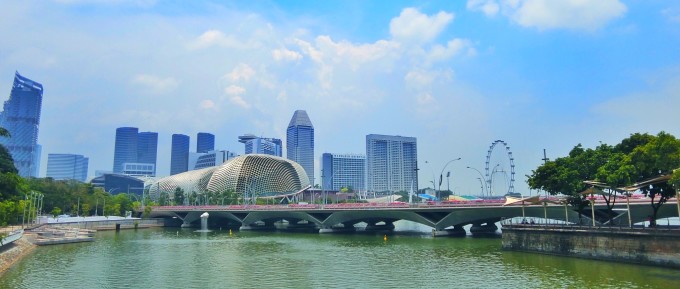 Esplanade Concert Hall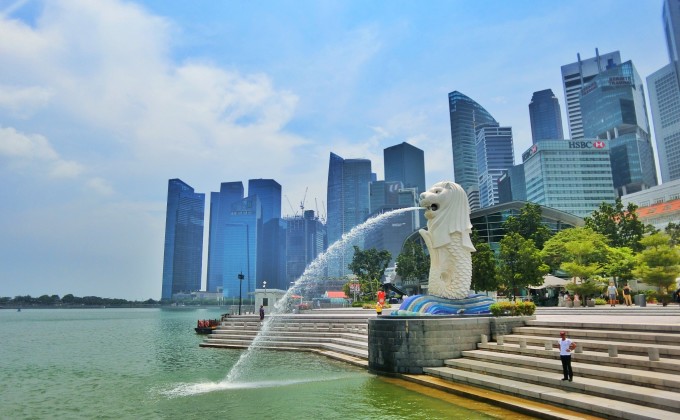 Merlion Park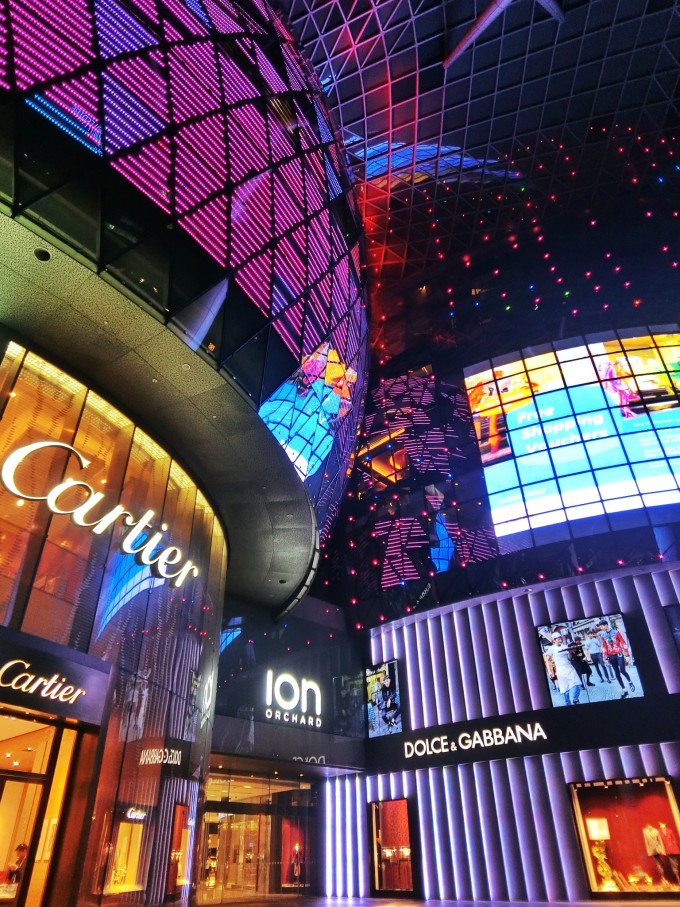 WuJie Road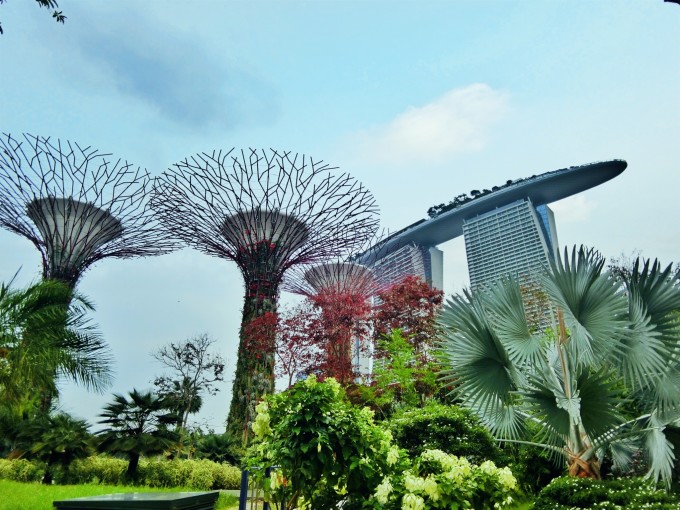 Marina Bay Sands Hotel Singapore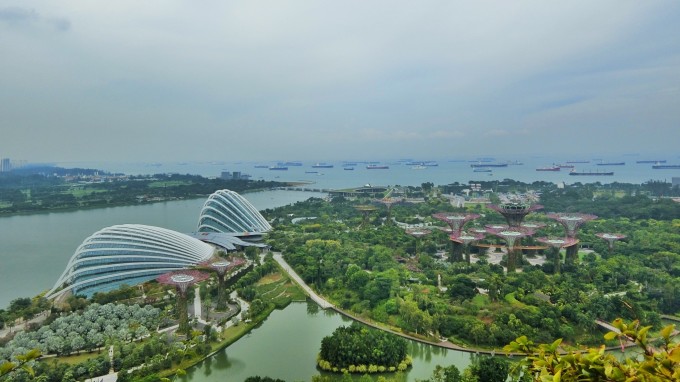 Marina Bay Sands Hotel Singapore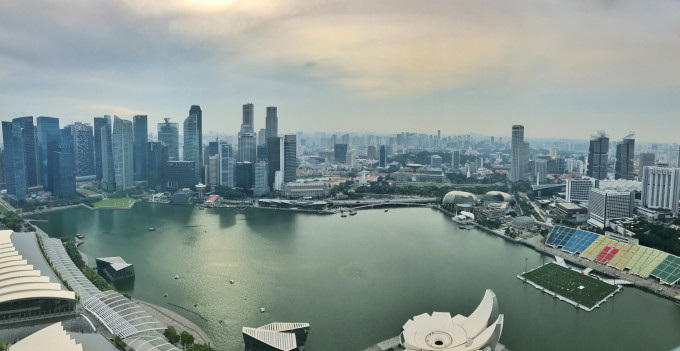 Marina Bay Sands Hotel Singapore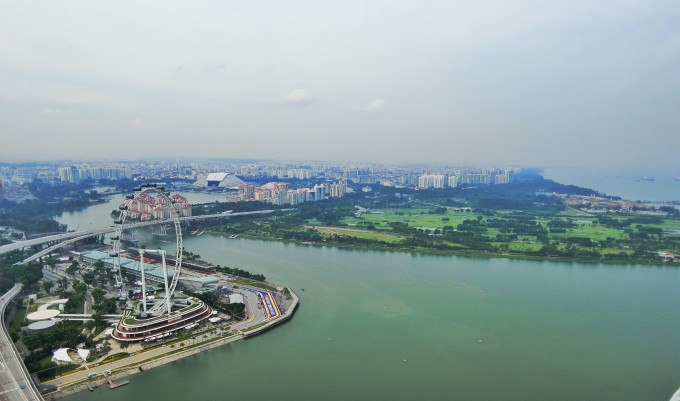 Marina Bay Sands Hotel Singapore
Day 1: Shanghai Fly Singapore - Sentosa W Hotel stay - Afternoon tea: Huang Ya fine Bak Kut -SEA- Merlion - stroll Sentosa - Dinner: Singapore Seafood Republic National
Day 2: Brunch: W hotel buffet - the summit Merlion - Universal Studios - Stay in Singapore Regency Hotel - Marriott Fengcheng - Dinner: Yi Fengcheng Thai Restaurants
Day 3: Brunch: Royal Terrace (Chinatown Hong Kong-style restaurants) - Merlion Park (near the small shopping around) - Yi Fengcheng - Dinner: hotels, meals: Hainan chicken rice + Royal Terrace
Day 4 : Check Marina Bay Sands Hotel- Marina Bay Garden- Sands Hotel Sky Garden-Dinner: Hotel- Marina Bay Water Screen Projection Light Show-Sky Tree Light Show-Sky Garden View Night View
Day 5: Breakfast: Yakun Kaye Toast-Airport Duty Free Shop- Singapore Fly Shanghai
Preparation before travel
Children who don't have many holidays can only take advantage of the National Day holiday to go out to Haapi. The National Day ticket is quite expensive. In addition, I am afraid that Mommy will be too hard and the flight time requirements are very high. In the end, the choice is actually very small. , The price naturally has no concessions.
We chose Singapore Airlines, at 8:00 on October 3 from Shanghai Hongqiao to take off, arrive at 13:30 Singapore . Return is October 7 12:45 noon Singapore took off to Shanghai Pudong International Airport is 18:00.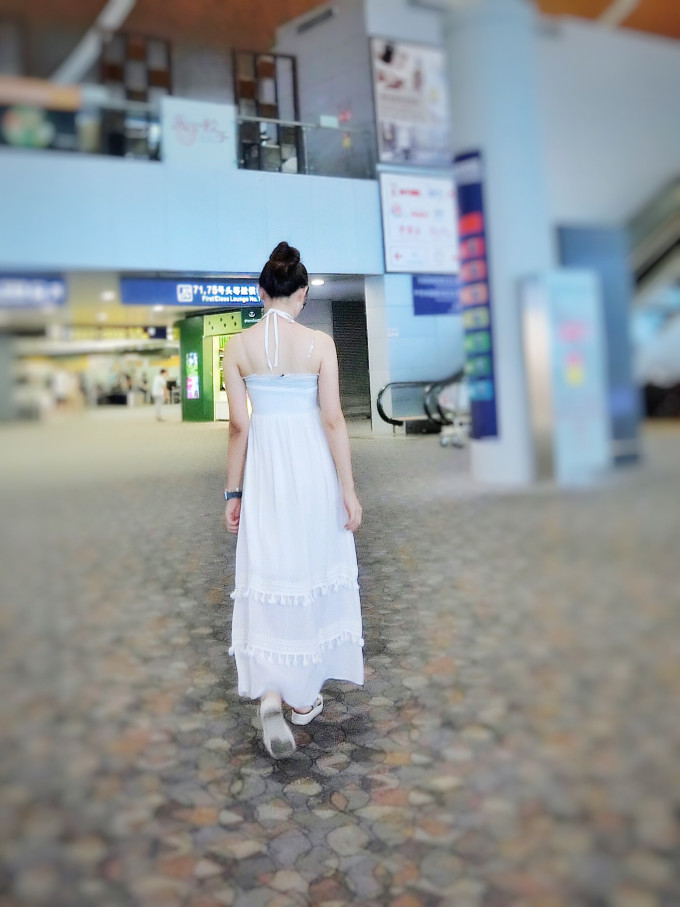 Shanghai Pudong International Airport
To Singapore have to experience the Marina Bay hotel's sky garden, overlooking the infinity pool on the top floor of the hotel in Singapore panoramic. In addition, Universal Studios will take more than half a day, so we have to spend one night on Sentosa. There is not much room for hotels on Sentosa. Most of them are super high-end hotels, which are expensive. W Hotel is also famous. Outside, the price was moderate, and W was finally chosen. For another two nights, considering the cost and location factors, I finally chose the Emgrand in Chinatown, next to the subway station Outram Park.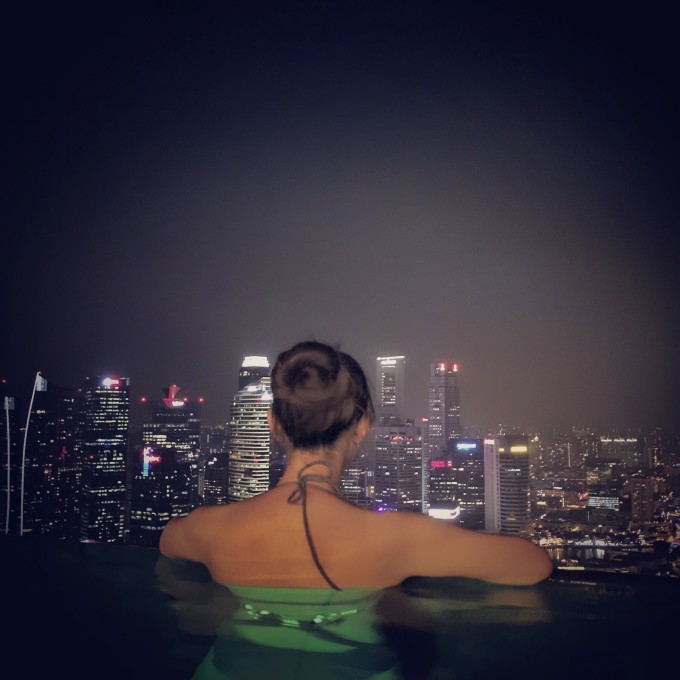 Marina Bay Sands Hotel Singapore
There are a lot of treasure on a Singapore project can advance-purchase tickets all kinds of attractions, you can determine if it will be able to make the trip is still very favorable, generally cheaper than buying on the spot.
In addition to tickets, I also set the first day of the W Hotel Sentosa airport to pick up service, transportation to W some inconvenience, Sentosa into the future there is no direct public transport can be reached, the first day of worry to Singapore Taxi is not convenient so I booked a pick-up, to the airport after careful observation, the taxi is very convenient, but it needs to line up, it should not take a long time, pick-up slightly more expensive than the price of a taxi, but Singapore It's not big in itself, so it's not much worse.
I also bought a Singtel phone card, a card with a 5 day 4G network limit flow. The flow is enough and the speed is definitely fast enough.
I'm still Sentosa Universal Studios official website to buy tickets and single tickets fast, quick coupon refers to Tingri period, the ticket is a time, in fact, have to buy a treasure, I was worried for a day of redemption will sell treasure If there is any entanglement, I bought it on the official website. A certain treasure is indeed cheaper.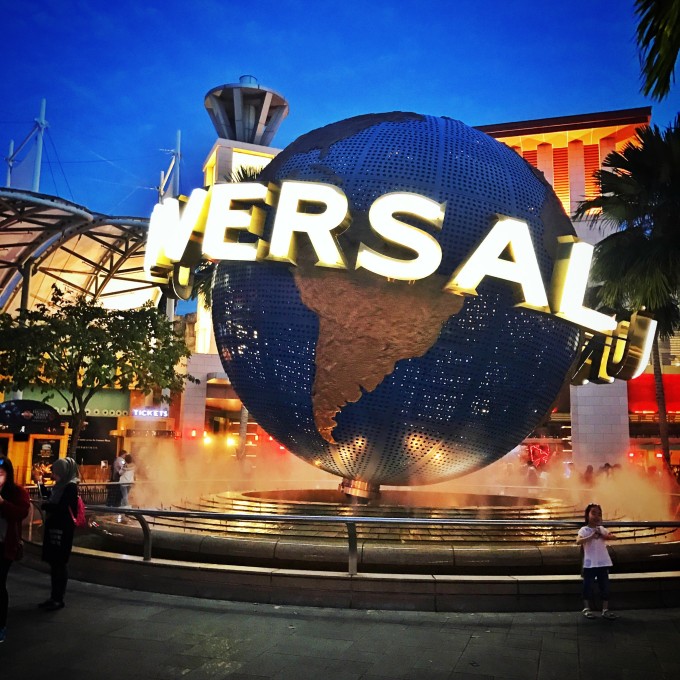 Universal Studios Singapore
Preliminary itinerary preparation is also very necessary. A total of several materials have been made: road books (attractions + food), itinerary overview, air ticket and hotel information. The first way to do the book and did not study the road book exactly what the contents are necessary, but each trip to see a friend will do the road book, but also learn to prepare some information, mainly including Singapore's history, each attraction, each The introduction of kinds of food, etc., it turns out that making a road book in advance is very helpful for the journey. There are many road books, and it is not very convenient to check them when traveling, so I also made a separate document for the daily itinerary, which is an overview, the names of the scenic spots, planned breakfast, lunch and dinner, and some simple maps. Air tickets and hotels are the basis of the entire itinerary and are listed separately for easy viewing. One copy of all materials, printout and mobile phone.
The last thing to prepare is the visa. The Singapore visa may give you a visa valid within 35 days to 2 years depending on the visa officer's mood. You cannot go to the embassy or consulate to apply for it by yourself. You must entrust a travel agency to apply it. As you may be given a visa valid within 35 days, Therefore, it may be risky to apply too much in advance. In the end, I started the application one month before the trip. It was also a reliable travel agency that a treasure found. In the end, the visas obtained by Mommy and I were valid within 2 years.
I recommend two useful apps, and I won't go into details about regular content like Google Maps.
The first is the map software: Singapore map (Tantu offline map), compared to Google Maps are all in English, this APP has both Chinese and English, and the map page is also beautiful. The first time I used this set of maps, I found it very good. There are also maps of many cities that I will download when I travel.

2nd City Singapore subway map, but also look at other children's shoes travel recommendation was downloaded, really good use.

Rourou is a lazy photographer, always thinking about the effect of using portable equipment to shoot blockbusters. Of course, I also know that this is a luxury. It is to find a balance between portability and blockbusters.
The card with the Western European TR600 (selfie Artifact): selfie artifact is a wide-angle lens, is responsible for landscape photos.
Iphone 7 Plus: Start with the new phone, you have to take it out for fun. There is no surprise with the dual rear cameras. I have never seen the blur effect of the telephoto lens, but the front camera is absolutely effective when taking selfies. The camera can take beautiful pictures even in dim environments.
Sony NEX 5R: Originally want to carry a tripod to facilitate shooting night, but unfortunately the box is not big enough, no tripod at the shelter, abandoned, and finally Sands few hotel Night Sky Garden is written in it.
Mommy doesn't appear much, and the selfie came from iPhone 7.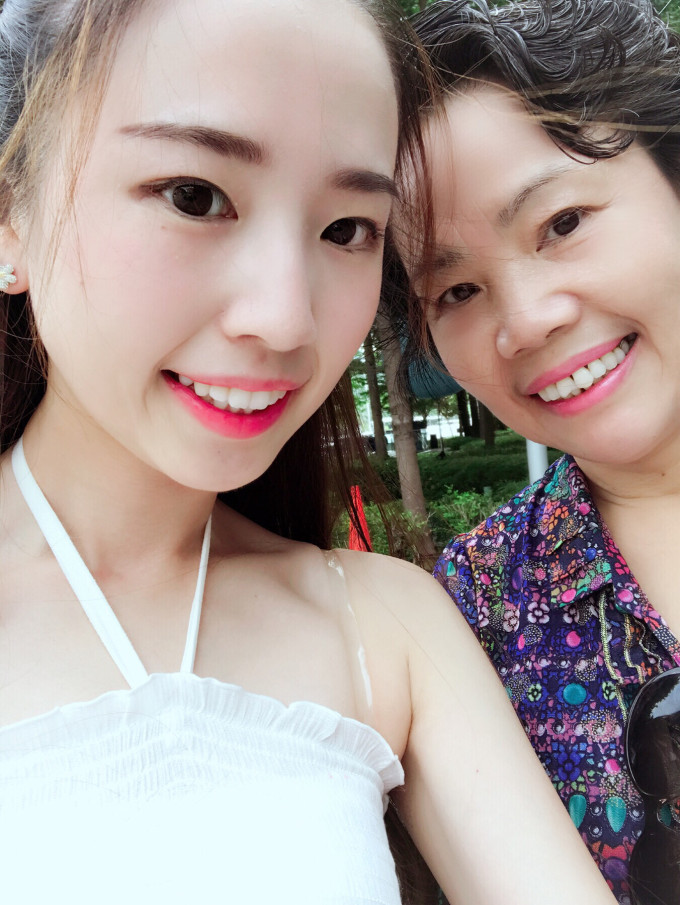 The first day-start of the trip, little excitement
For the plane at 8 o'clock in the morning, in order to be able to walk around the day and ensure sufficient time for security and clearance, we expected to arrive at Pudong Airport at 6 o'clock, so the alarm clock was set at 4:30 in the morning. I vaguely remember that the first time I took the train when I was a child, I got up around 4 o'clock. Although it was very early, it was also very high. It was the same this time. I slept in the same way the previous night. I was going out to play the next day. There was no cure for the problem of not sleeping well the previous night.
It's a long journey to Pudong Airport. At this time, my dear Papa is on the scene. Papa is responsible for picking up and sending off the plane and looking at the house at home . I got another sleep in the car and arrived at the airport on time at 6 o'clock.

Sure enough, there were a lot of people at the airport on National Day. There was a long line to enter the gate, and the line to exit was very long, but it did not last long. Finally, I went around the day smoothly, bought good things, and boarded the plane on time.
Because the air tickets are more expensive, I always have high hopes for the Singapore Airlines report, but I was a little disappointed on the way out. The meal on the plane tastes mediocre and looks mediocre. I basically have no appetite and my ears are very uncomfortable when I land. The cold is also a bit related), but the seat is very comfortable, and the economy class is spacious.
The return trip showed the full sincerity of Singapore Airlines. The meal on the plane was delicious. Anyway, I ate it up and I had ice cream at the end. My ears didn't hurt when I landed, so I liked it.
Although my ears still hurt when I got off the plane, it did not affect my excitement about starting a journey. Change the phone card at the airport, meet the pick-up master, and embark on the road to Sentosa
The city of Singapore is really good, with a high greening rate. The trees planted on both sides of the street are very special. I heard from the driver's master that it is a tropical tree, which looks like a huge potted plant with a very special shape and beautiful appearance.
If you are not a resident of the island or staying in a hotel on the island, you will have to pay an entrance fee of S$2 per car.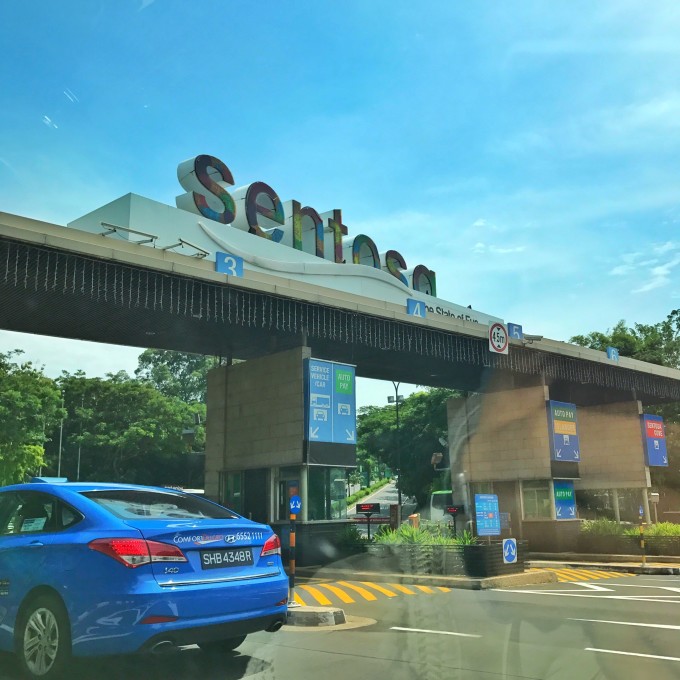 Sentosa Island
W Hotel is on the east side of Sentosa Island. There is only one hotel in that area. Next to the hotel is W's apartment. According to the driver, the area where W Hotel is located is a rich residential area. In addition to apartments, there are many villas. The price is expensive.
W's signature LOGO, Maldives 's W should be the most famous, I have always wanted to experience it, which is why I chose W this time.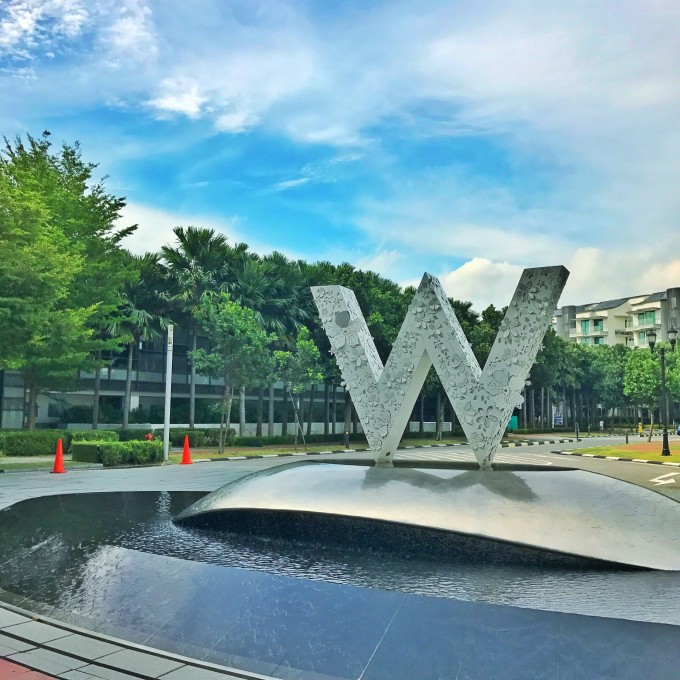 W Singapore Sentosa Cove
The weather was very good on the first day. The driver said that it was raining heavily in the morning. It was the kind of heavy rain that made people not want to go out at all, but it was clear in the afternoon, and it was blue sky and white clouds. The hotel entrance was very suitable for taking pictures, so he and W Here comes a group photo.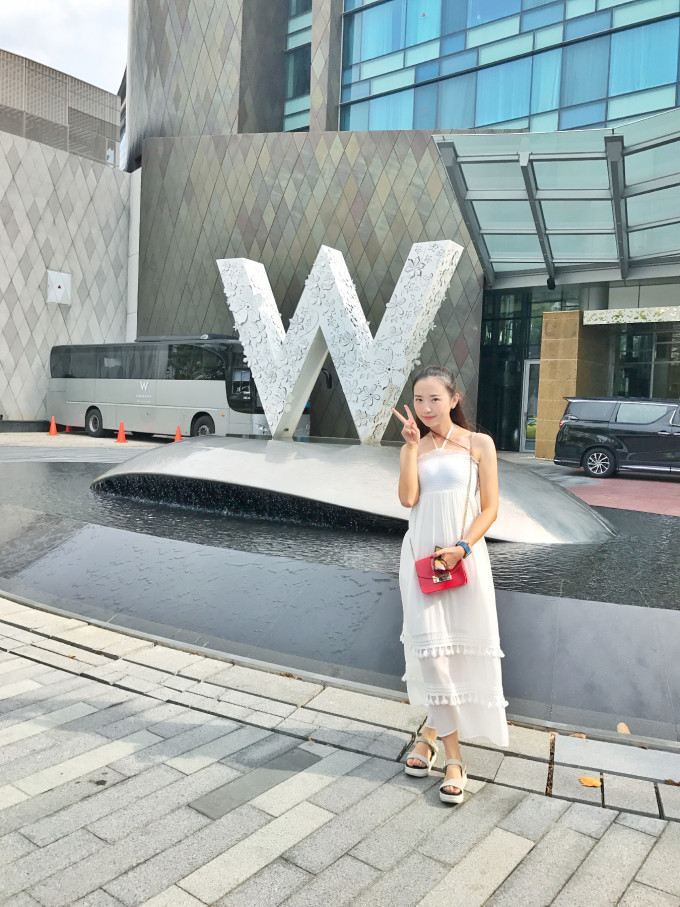 W Singapore Sentosa Cove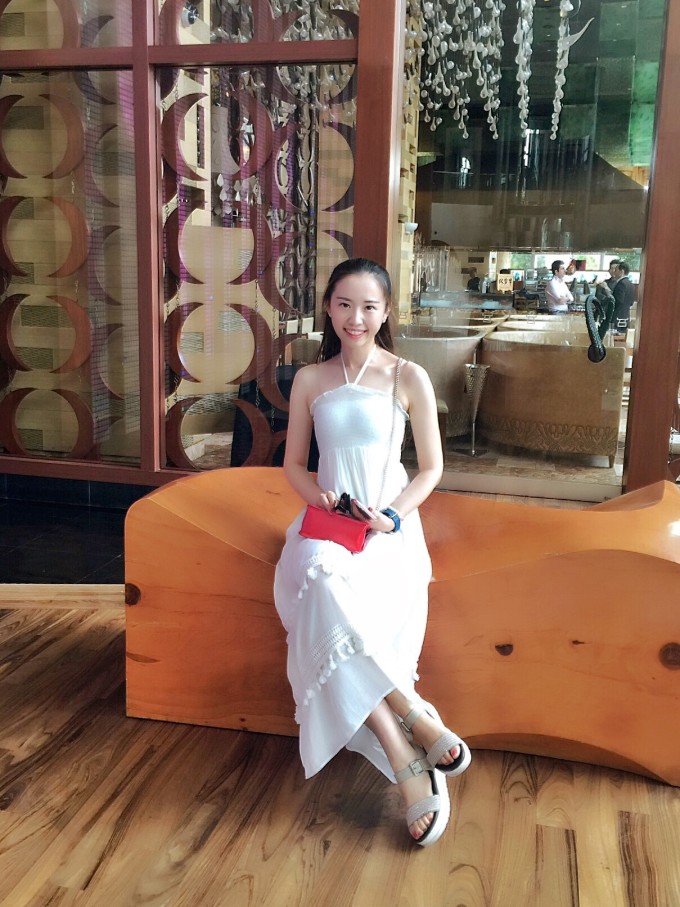 W Singapore Sentosa Cove
After a short break at the hotel, I am ready to set off to the busiest area of Sentosa Island: Resorts World.
W has a shuttle bus to Resorts World. You can see the pictures for specific schedules. It is useful to arrange the time. When you arrive at Lobby, you need to talk to the waiter at the door. They will tell you which car is heading to Resorts World. Follow the instructions. That's it.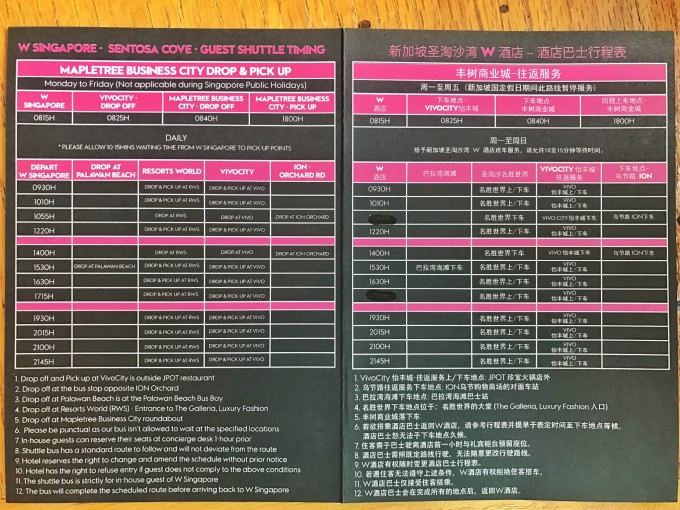 W Singapore Sentosa Cove
The first day's itinerary was to go to the SEA Aquarium, so when we entered the world of resorts, we followed the instructions. The elevators and walkways were dazzling, and the lights were used to create the effect.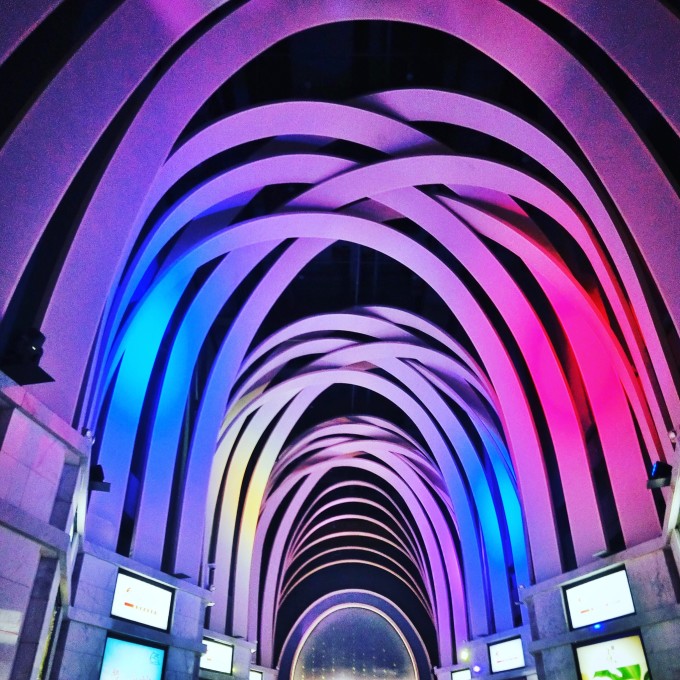 Resorts World Sentosa
Aquarium of the way to find a fine yellow sub-Bak Kut, Kut Teh in my Singapore in the list of the food line, and without hesitation, decisively and bought a package to try
I am not a connoisseur of beauty food, and the analytical place is not professional. Generally speaking, Bak Kut Teh has a strong pepper flavor and a strong taste. Drinking the soup alone cannot drink a lot, but the two ribs are very tender and very crispy. , Remove the meat and dip it in Bak Kut Teh. It's delicious. Brine platter surprise, brine tofu is delicious, fresh, dipped in brine eat really simply can not stop suddenly think of it before someone took me in Shanghai eaten tofu brine a Hong Kong-style restaurant, and very delicious. In addition, the white rice is very sticky, so eat it with Bak Kut Teh, which just neutralizes the strong taste of Bak Kut Teh.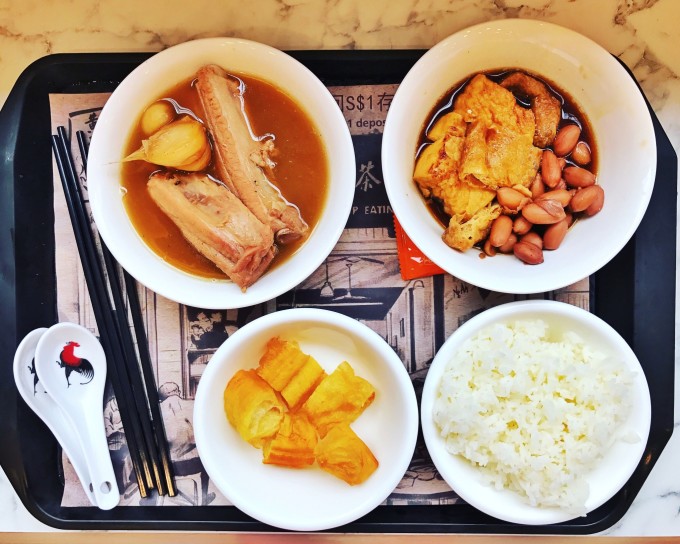 Huang Yaxi Bak Kut Teh
Inheritance and development of Huang Ya Xi Bak Kut Teh.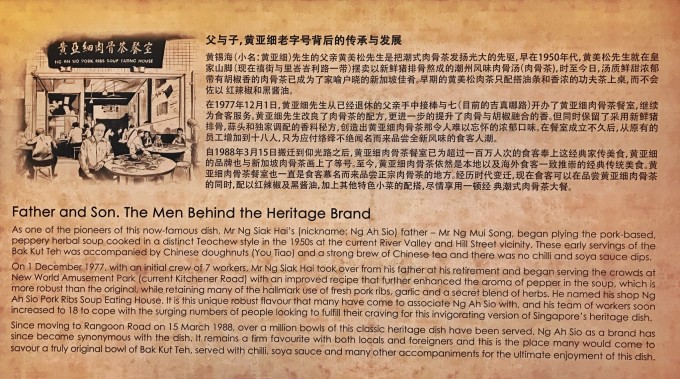 Huang Yaxi Bak Kut Teh
After eating and drinking, the wind on the soles of the feet came to the aquarium immediately, but was told that the aquarium was about to close in 1 hour, so I still bought the tickets to visit.
The way to the aquarium to see the ad close contact with the dolphins is a very interesting experience, and then later in Singapore to try next.
Underwater channel , into a total of two.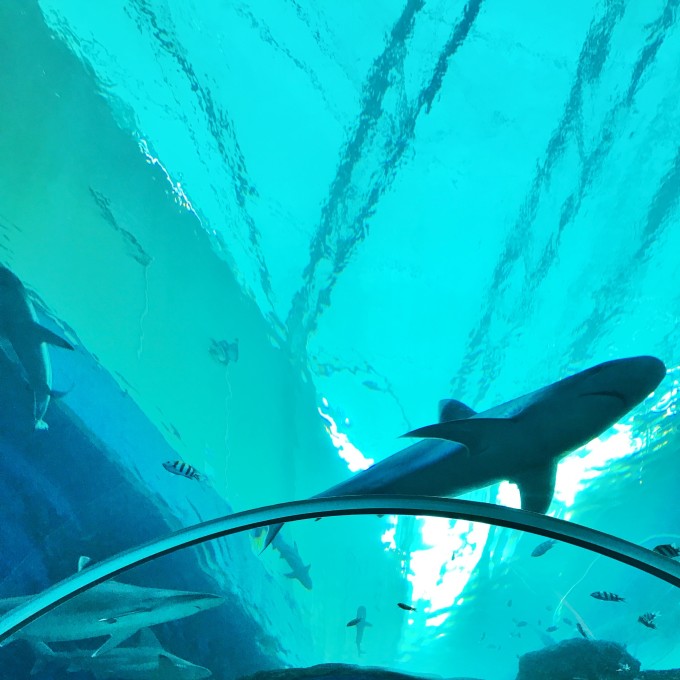 SEA Aquarium
The lights in each aquarium are well rendered, and the photos taken are very beautiful in color.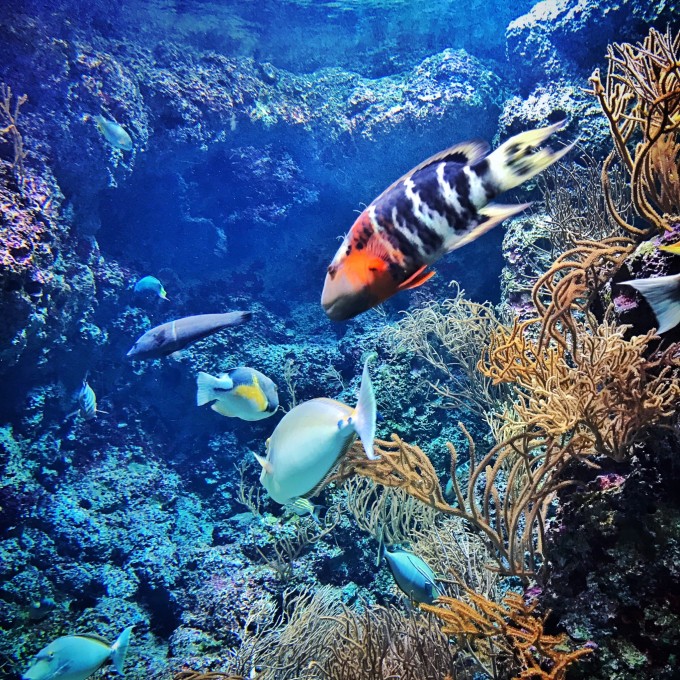 SEA Aquarium
iPhone 7 front camera + beauty camera fill light mode, the effect is still very good.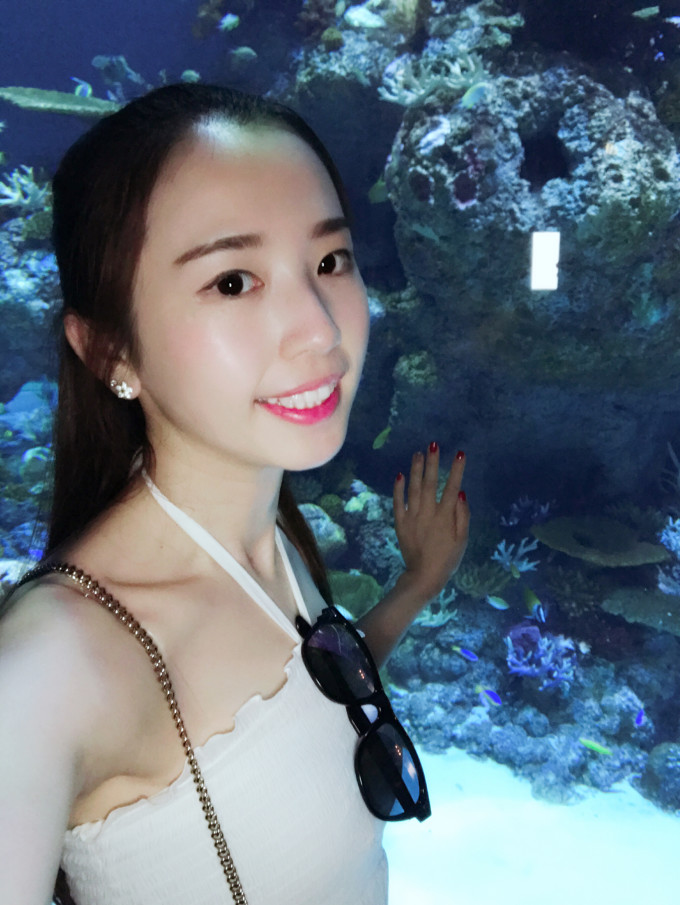 SEA Aquarium
There are three Merlions in Singapore. I saw two of them this time, one on Sentosa Island and the other in the downtown Merlion Park.
The Merlion at night is majestic and domineering against the sunset.
The Merlion Tower on Sentosa can be climbed to the top. In addition to the place where the lion's mouth can be photographed and overlooked, there is also a beautiful view on the top. This is the second day's itinerary and will be introduced later.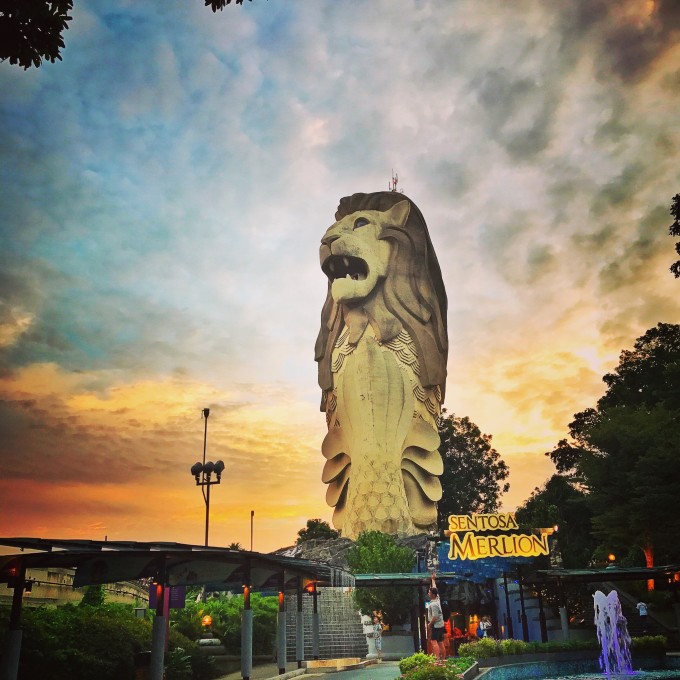 Merlion Tower, Sentosa Island
Think about it, a Merlion, but it's out of position.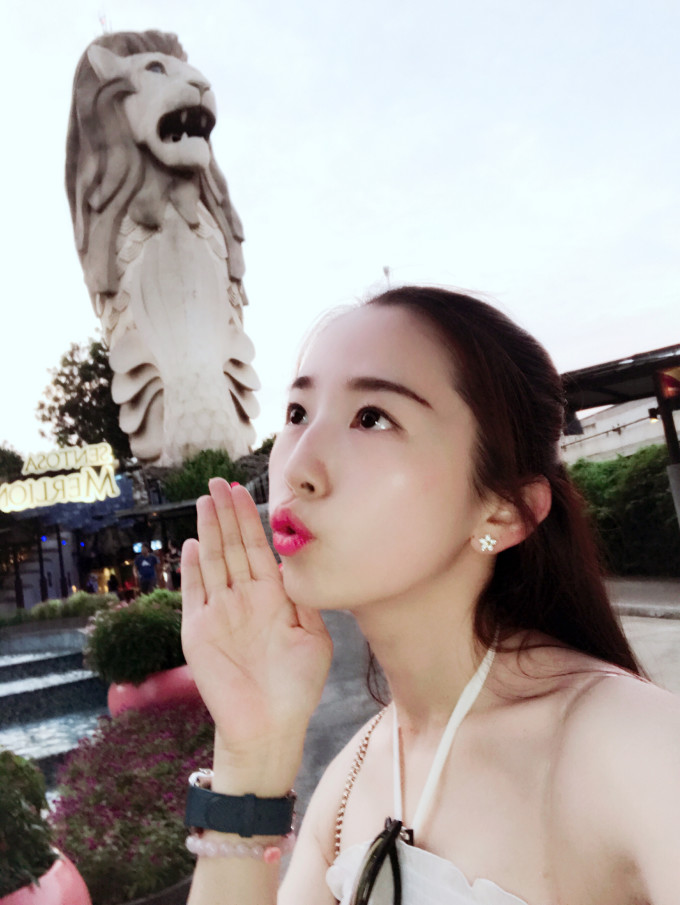 Merlion Tower, Sentosa Island
Dinner is wanted to advance good Singapore Seafood Republic country, could not find on Google Maps, does have a clear position on public comment, public comment but can not navigate, with probably the way to find direction, via Universal Studios, first Come to a night light version to warm up the itinerary for tomorrow.
Universal Studios Singapore
About 19:00 arriving in Singapore Seafood Republic country, and other bits need to be told one hour, so on and so right to food, while waiting position while playing Pokemon, or catch a few elves.
Finally, I actually waited for about half an hour before I went in. On the second floor, there is a small private room with four tables. Mommy and I sat by the window. The homework we did in advance was the chilli crab and the oatmeal shrimp, but I had eaten Huang Yaxi before. In fact, I am not too hungry, so I ordered a signature chilli crab with fried bread.
The sauce of the chili crab on the bun is delicious. The bun is soft and the skin is slightly crispy. The sauce of the chili crab is slightly spicy and sweet. It also has the umami flavor of crab. The taste is excellent when mixed with eggs. The chili crab is very suitable for my taste. The spicy and sweet, the crab meat is fresh and tender. The crab shells have been processed in advance. The shells have been crushed with tools. If you still can't bite, you can ask the waiter for tools, and finally include the sauce. There is no waste to lose, it's delicious! So satisfied!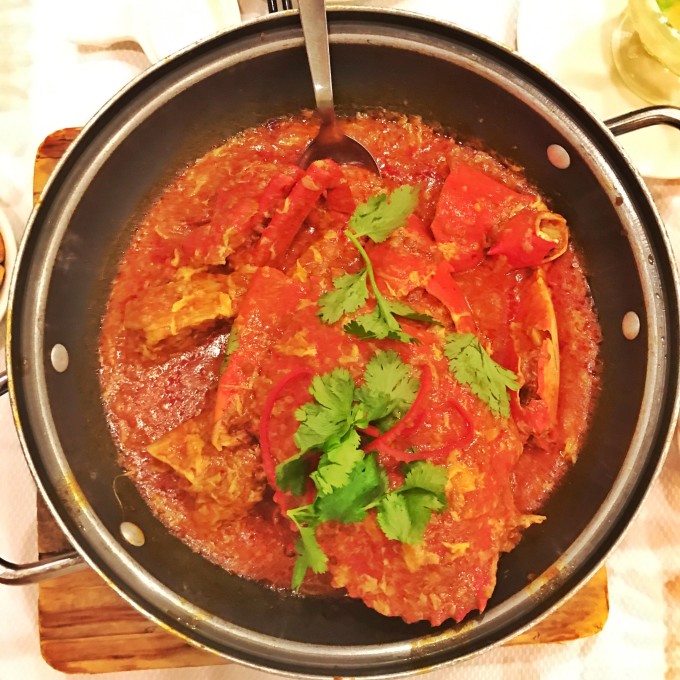 Seafood Republic
After eating the food, Mommy and I set off to go back to the hotel and asked the waiter. When we arrived at the taxi stand, we returned to the hotel for 10 SGD. The taxi fare in
Singapore is not high originally, but it seems that there are a lot of surcharges. The actual fare from Resorts World to W is about 5 SGD, but after adding the night surcharge, it will be 10 SGD, 6pm Additional fees will be charged in the future.
By the way, I visited the hotel at night. The hotel has a swimming pool, but I didn't try to get into the water when I caught a cold. It seems that there are some big inflatable cushions by the pool, which looks very fun.
This is the staircase leading to the swimming pool.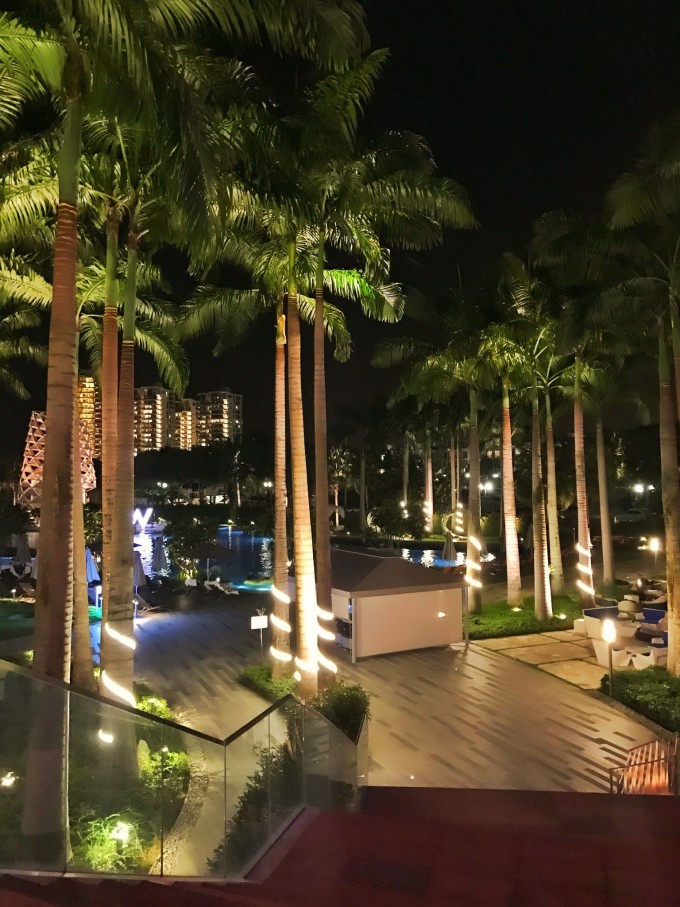 W Singapore Sentosa Cove
Night view from hotel room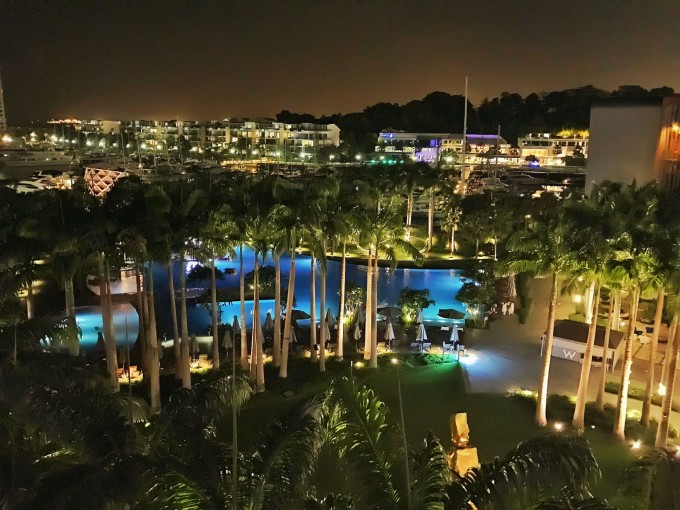 W Singapore Sentosa Cove
The W at night keeps changing lights.

W Singapore Sentosa Cove
Day 2-The first roller coaster ride with eyes open
Wake up naturally, get up and go to the hotel restaurant for breakfast.
It was a small surprise to see laksa. Although it tastes a bit heavy for breakfast, it tastes good.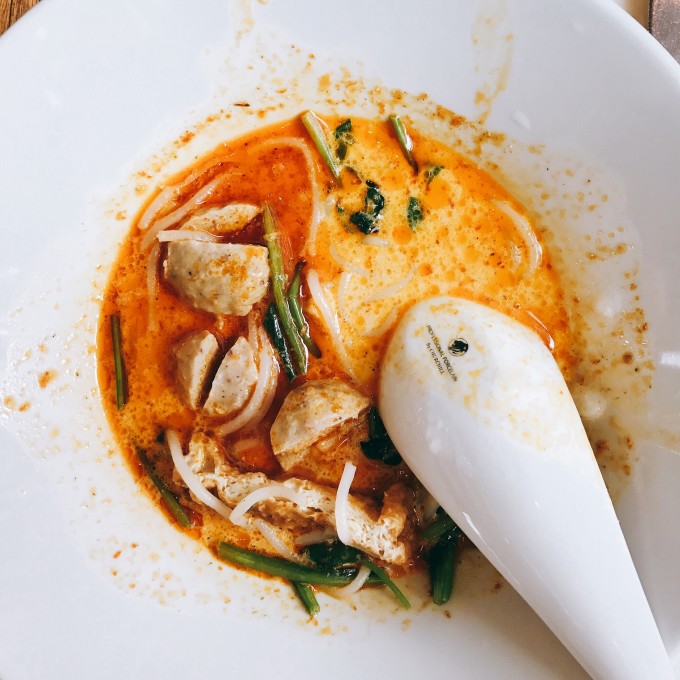 W Singapore Sentosa Cove
The scenery outside the breakfast room.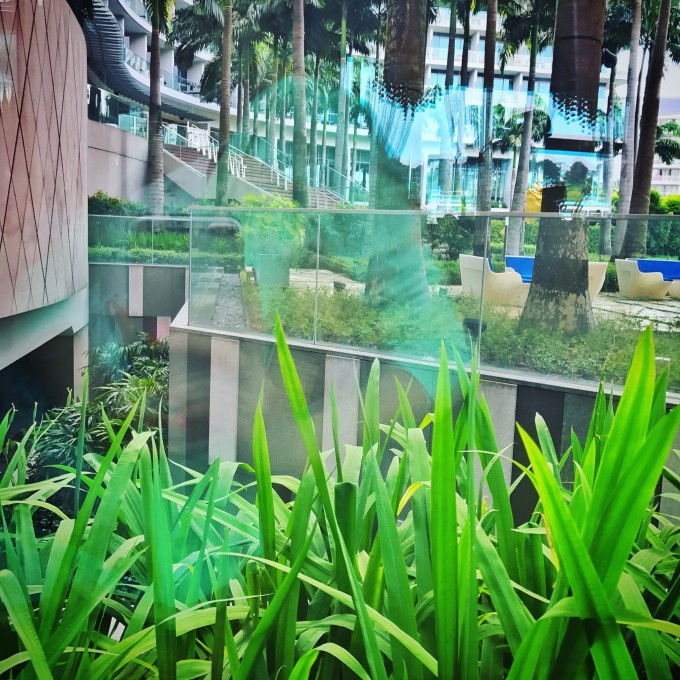 W Singapore Sentosa Cove
Hanging out with mommy in the hotel, taking pictures. Mommy's photography skills are great.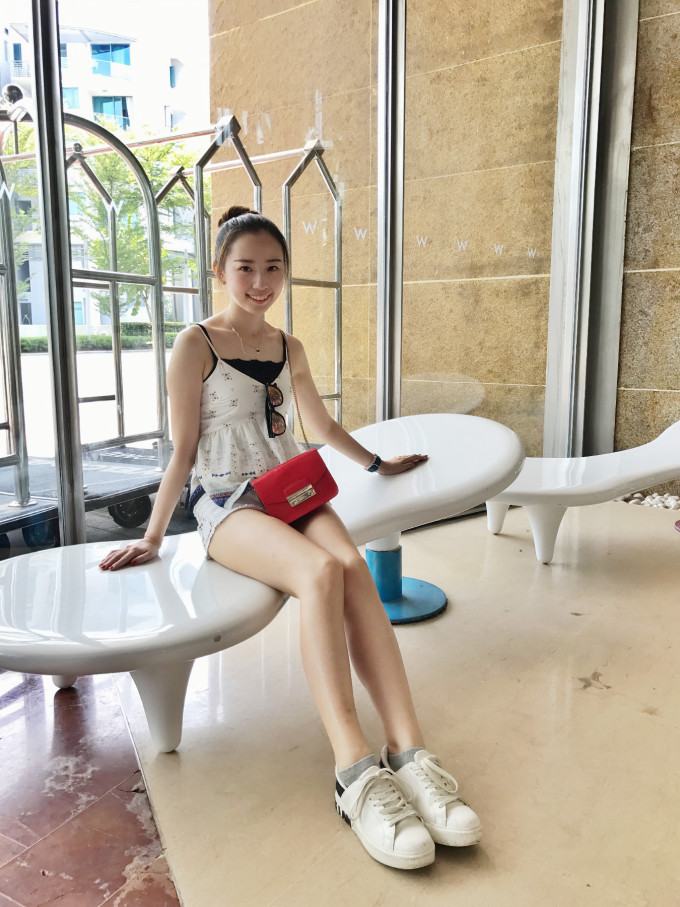 W Singapore Sentosa Cove
Before going to Universal Studios, make a temporary decision to climb to the top of the Merlion Tower and enjoy the panoramic view of Sentosa.
Before the summit, will look at a period of about Merlion on Singapore introduced provenance, and then there is the Merlion, prepare a gold coin for each visitor, spit from the mouth of the lion, and my mom bought two The ticket, but accidentally spit out three gold coins. It must be the Merlion who knew that my dad was waiting for us at home, so he also prepared one for him.
This action is to help us take pictures of the little brother to teach us, perhaps there is blessing the meaning of it, then I wish my Daddy and Mummy are health Kangping An happiness.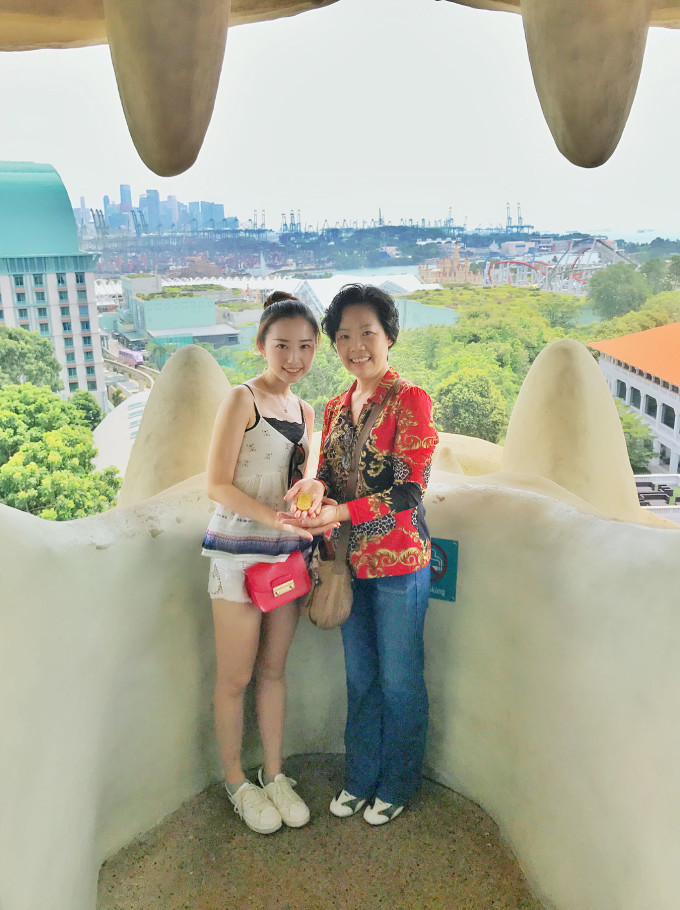 Merlion Tower, Sentosa Island
The scenery on the top of the Merlion Tower is very beautiful with the blue sky, white clouds and blue sea.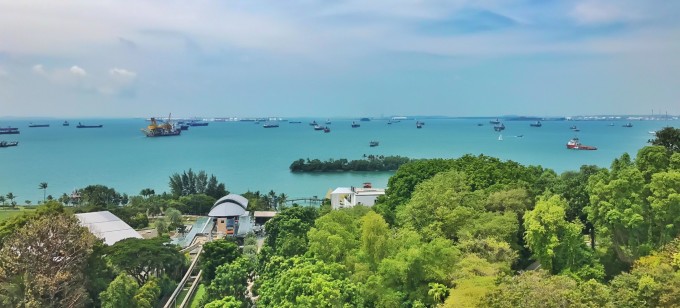 Merlion Tower, Sentosa Island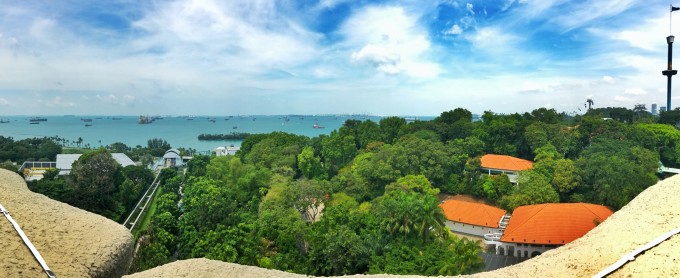 Merlion Tower, Sentosa Island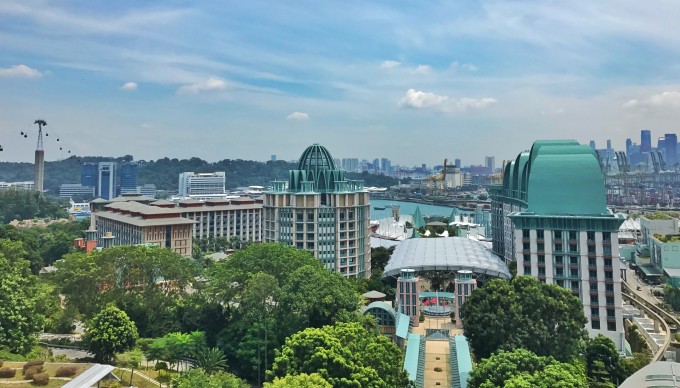 Merlion Tower, Sentosa Island
The tour of Universal Studios started around 12 noon, and finally left at 6 pm.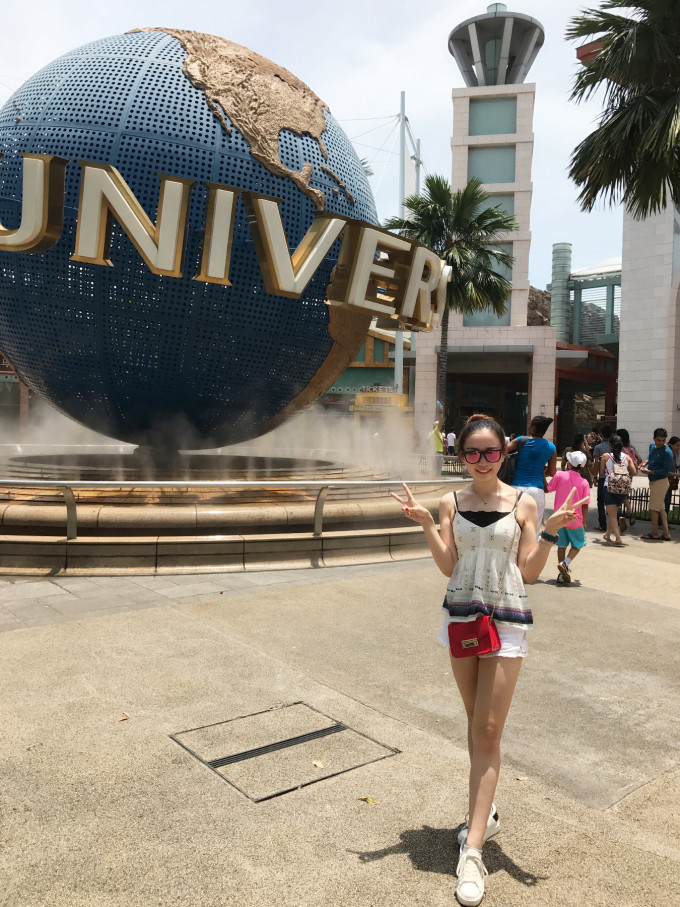 Universal Studios Singapore
As soon as you enter the store, take a photo with Xiaomeng Dog and Dajian Cat, haha.
I really like the look in the eyes of the little cute dog, full of love.
Fried Chicken likes this cartoon, Mengmengda is super cute, I really want to watch it a few more times.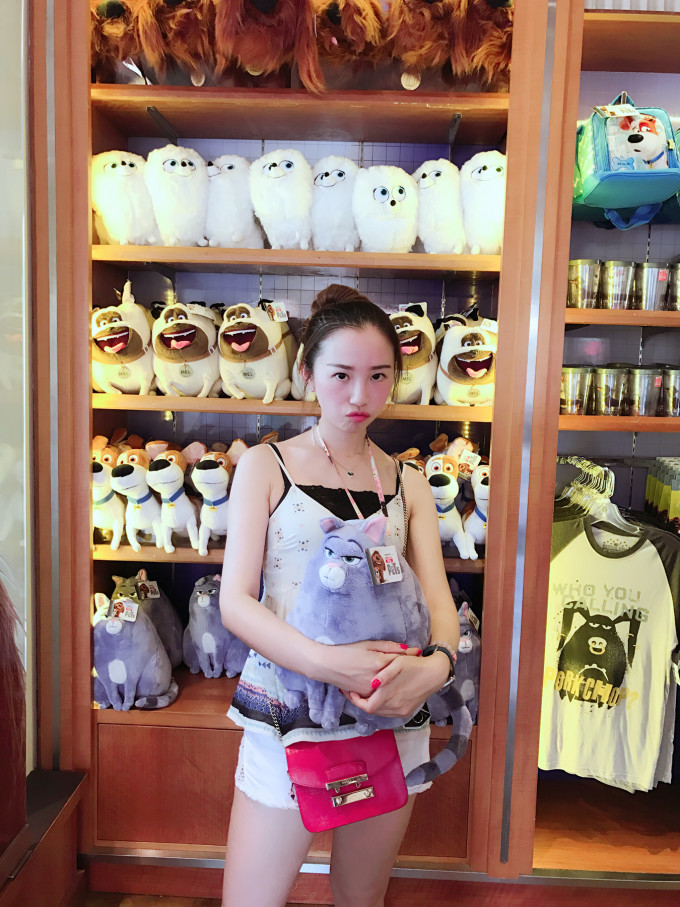 Universal Studios Singapore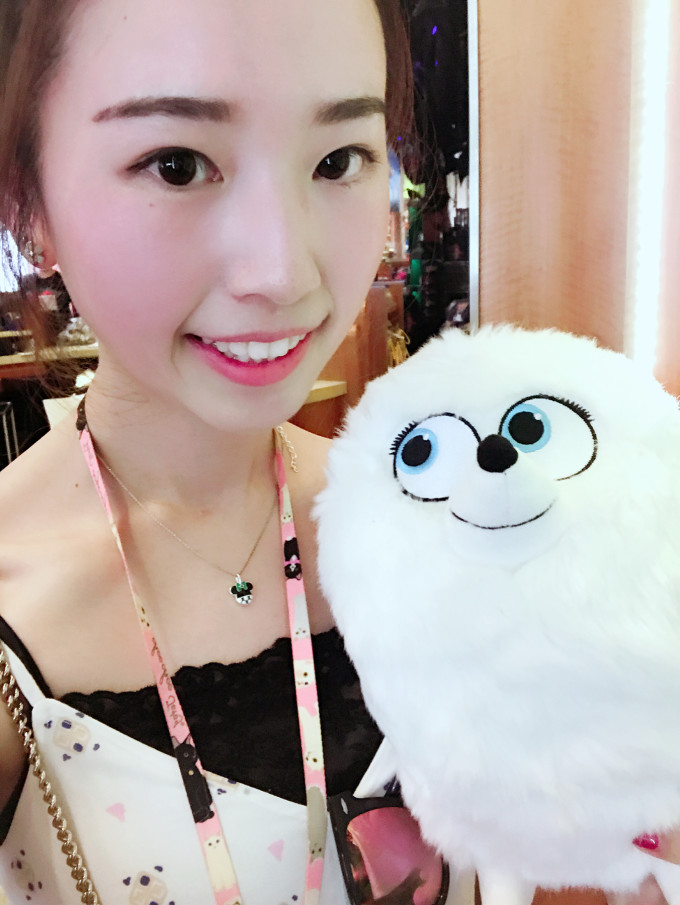 Universal Studios Singapore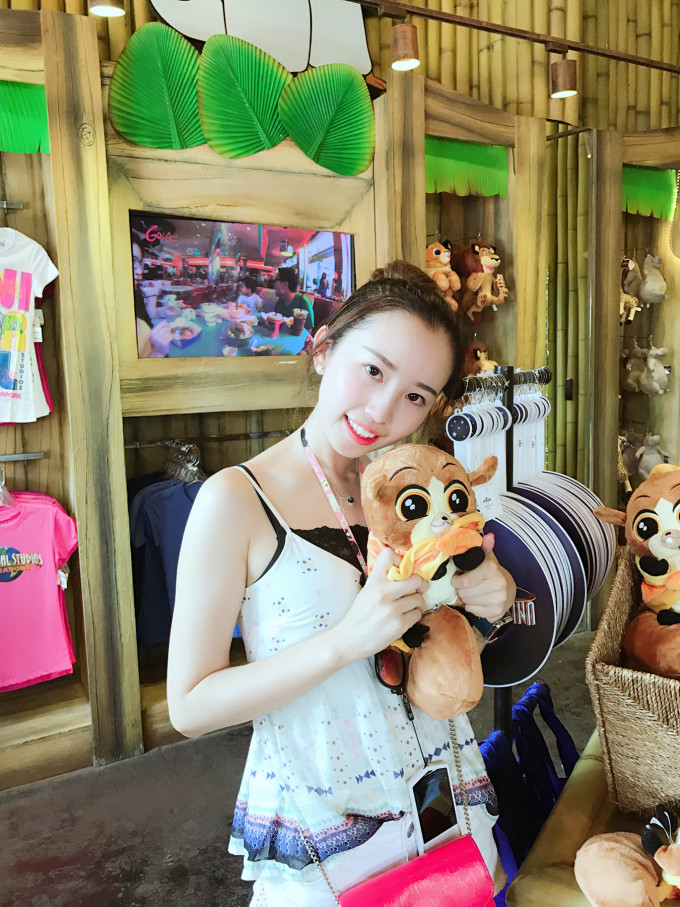 Universal Studios Singapore
Transformers is definitely the highlight. Before going, everyone told me that I must go. The effect is absolutely nothing to say. I don't know how to describe it anyway. I definitely can't miss it.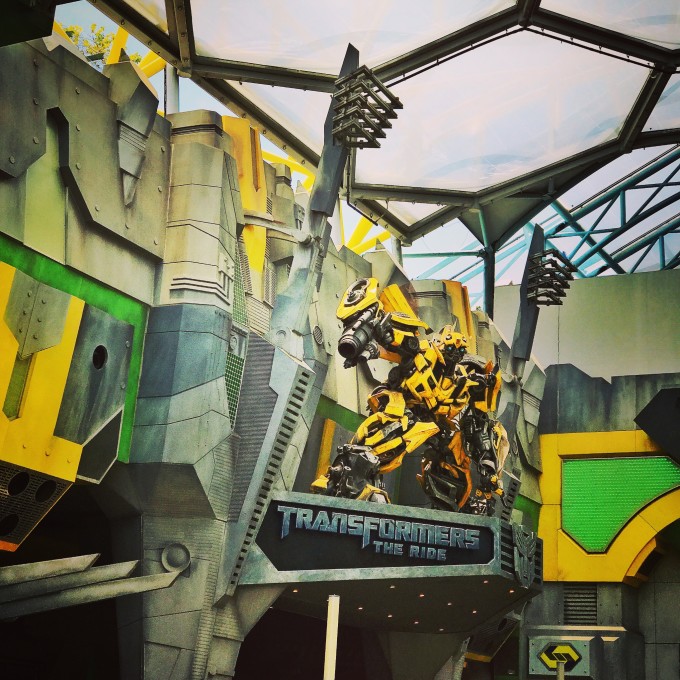 Universal Studios Singapore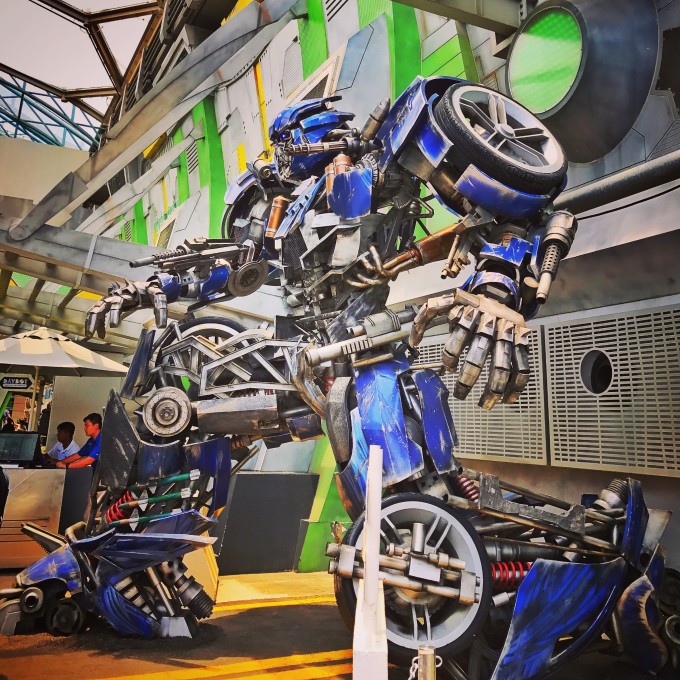 Universal Studios Singapore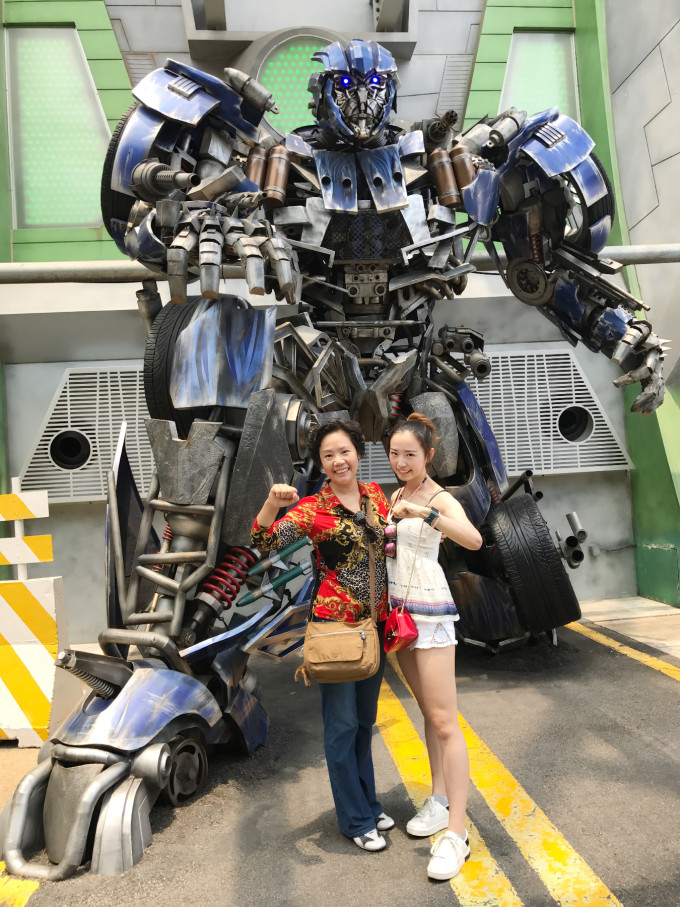 Universal Studios Singapore
I don't have much guts, but I want to play everything, and everyone else wants to play. The roller coaster is one of those things who want to play but are afraid of.
Mommy will definitely not accompany me on the roller coaster. I ride the roller coaster by myself and no one encourages me. I am still a little bit embarrassed. As soon as I enter the door, I wonder whether I want to play or not. I really don't want to go back with regret. Courage to sit alone! The roller coaster of Universal Studios
Singapore is a double-track roller coaster. One track belongs to humans and is seated; one track belongs to the mechanical team and is suspended. In fact, it is already anti-human. When you look below, it turns upside down anyway. This No one encourages me in this track, I will never do it! But the human orbit must try to drop! I used to close my eyes tightly when riding a roller coaster. Damn, I had an expression that scared the baby to death. This time I don't know where to open my body. I opened my eyes and played with wide open. As a result, I was able to see the road clearly, but I was not so scared. , It seems to have opened the door to a new world of roller coasters, and I suddenly felt that roller coasters were amazing, nothing terrible!
In the end, when I was entangled, I wanted to play the track of the mechanical team. Think about it or choose to keep it for the future. I hope someone can encourage me in the future and play crazy together.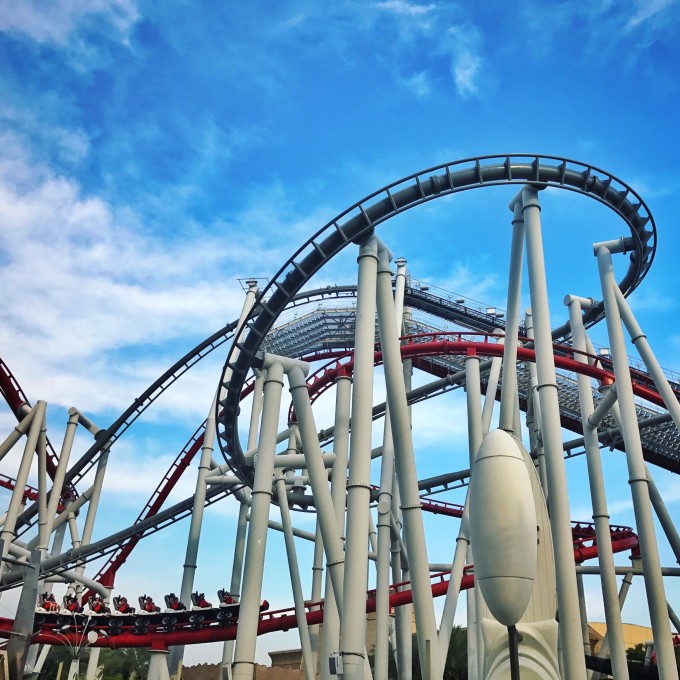 Universal Studios Singapore
六点钟左右离开环球影城,帮同事买了个呆瓜独角兽🦄️,萌的不要不要的,自己还买了些小东西,毕竟来一趟环球影城,不带点什么回去太对不起自己了。
It is really inconvenient to take public transportation with luggage, so I chose a taxi from the W Hotel Sentosa to the Dorsett Hotel located near the Outram Park Station in Chinatown.
In the evening Yi Fengcheng eat Thai food, fleshy little cold serious, on the early return to the hotel to rest.
The third day-the sun shines in the sky and becomes a tabby cat
Comfortably sleep until 8 o'clock, get up and go out, the weather is very good, I can see that there should be plenty of sunshine today.
Would like to find a shop in Chinatown to eat breakfast, probably because it is in Chinatown, may not be familiar with, and did not find the right Singapore features a breakfast shop, but found a Hong Kong-style Chinese restaurant - Royal Terrace, is supposed to The door opened at 11:30, communicated with the owner, and let us in.
Point a few dim sum and fried rice, complete and Singapore has nothing to do, and my heart have worried about a day trip, it inadvertently photographed, thinking quickly eating up can go everywhere. However, the dishes in the shop are exquisite. The shrimp dumplings are very large and the fried rice is also very tasty. In short, it is a very delicate Hong Kong style. Mommy likes this shop very much, so she went to this shop for dinner.
Eat well and drink enough to get thick hair.
Today's goal is to Merlion Park and near some of the buildings, in fact, Singapore downtown of.
As soon as I left the hotel door, I saw ERP, haha, understand naturally.
I don't know what it is, there are many on the main road in Singapore .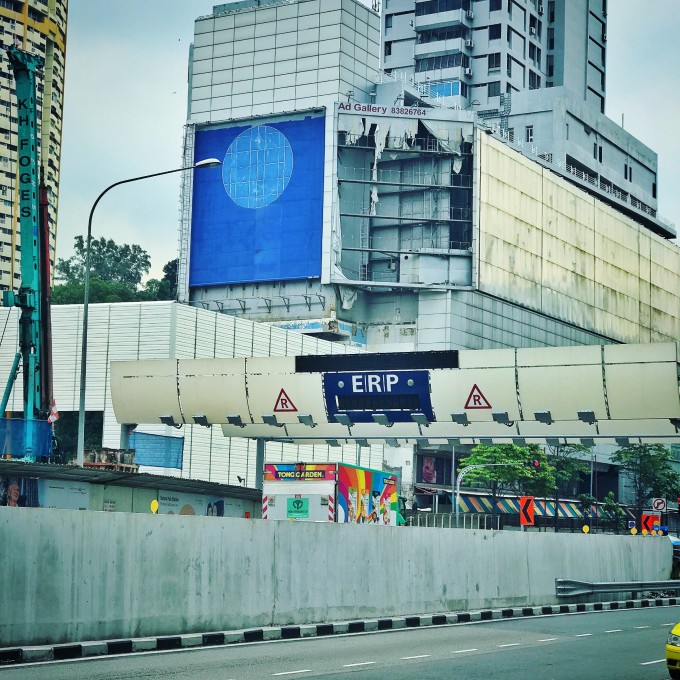 Dorsett Singapore
Out of the station, while strolling along one side to the Merlion Park is probably the way to go, go for a while to see the Ghana Wen bridge. This is the connection's first Singapore Henan bridge on both sides of the North, built in 1868. In the pier near Fullerton Hotel can be found a few cat statues, mini size, it is said to be "Ji Nice World record "the most petite cat, only grows and Singapore . #Excerpt from Mafengwo's scenic spot introduction#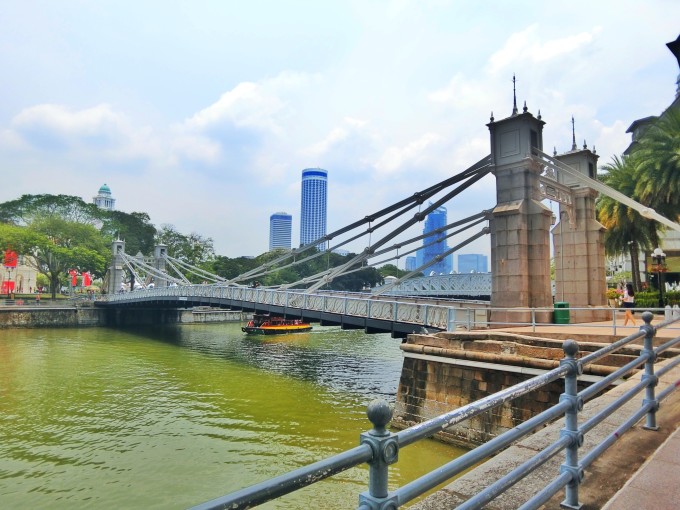 Ganaven Bridge
Walk to the other side of the bridge and continue to admire all kinds of buildings along the road. Singapore is really clean, with a lot of greenery, and the weather is sunny, which is pleasing to the eye. But the sun has risen to the headspace, entering the hottest time of the day.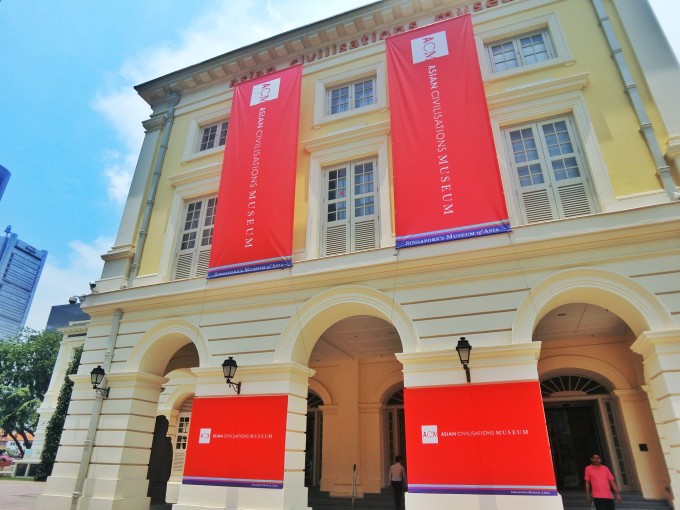 Asian Civilization Museum
When the lens is used, I feel that it is not wide enough, and I can't give a full picture of the building.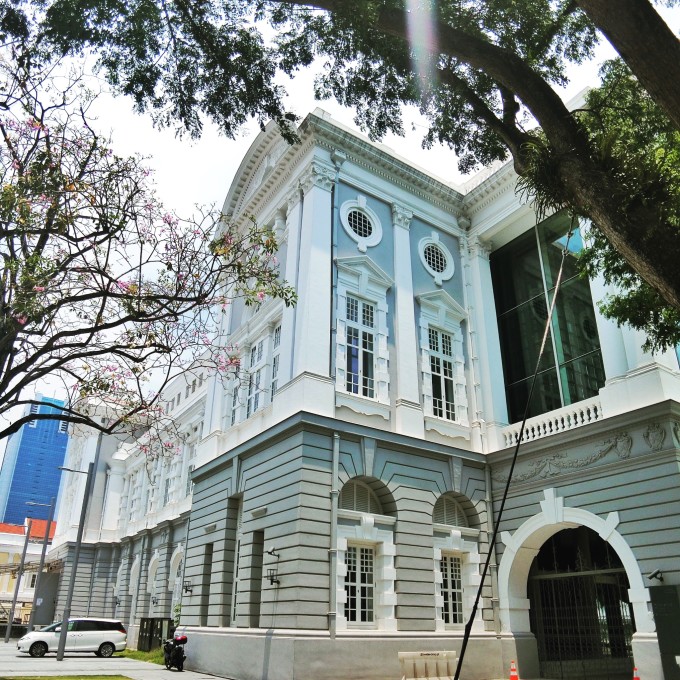 Victoria Theatre and Concert Hall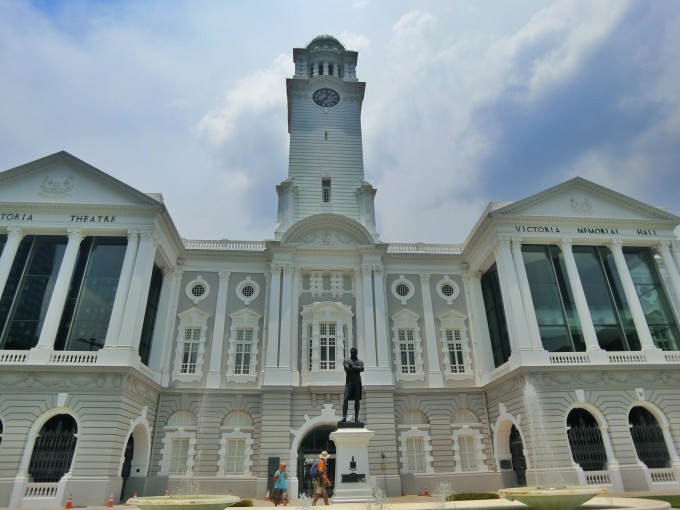 Victoria Theatre and Concert Hall
Not the kind that road out of the airport potted tree, but the towering trees can not help but want to take a picture.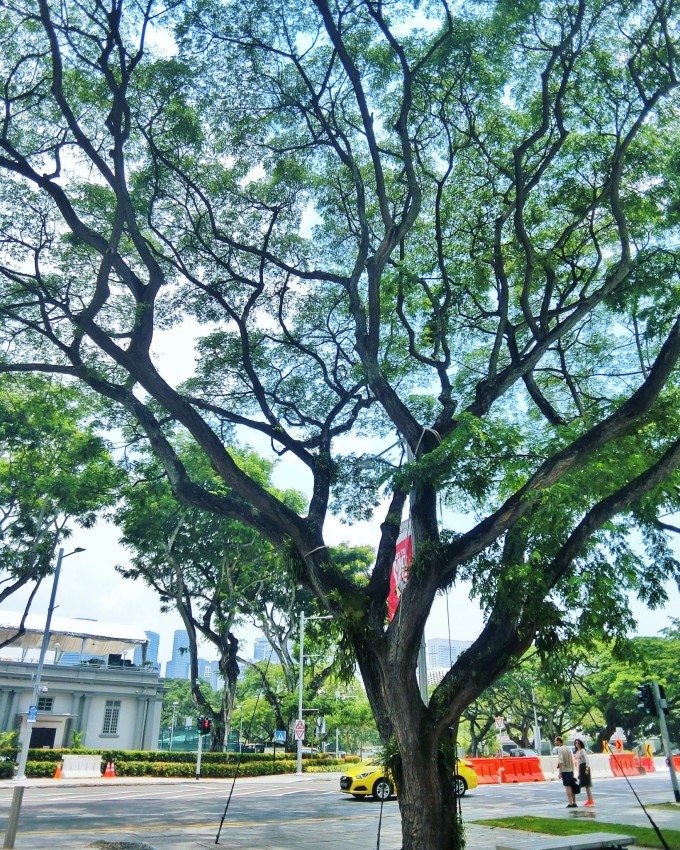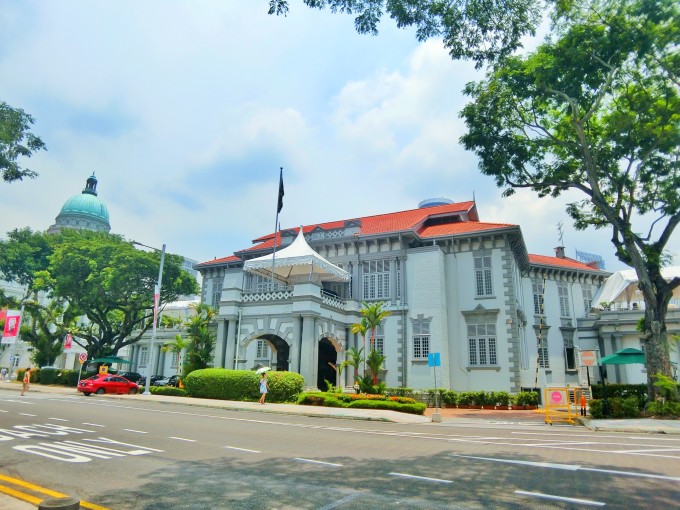 Came to a wide lawn, overlooking the Marina Bay Sands, it is really a dazzling building.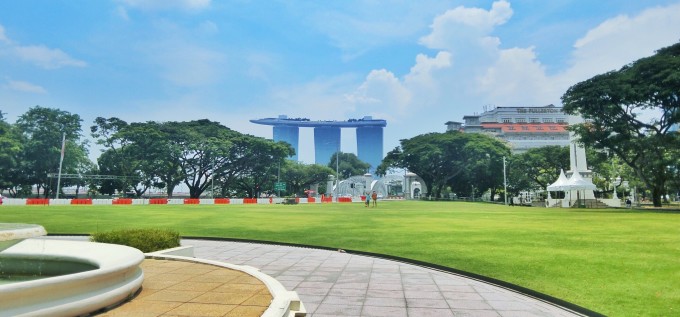 There are also some tall buildings around, and you can see the financial circle in this area.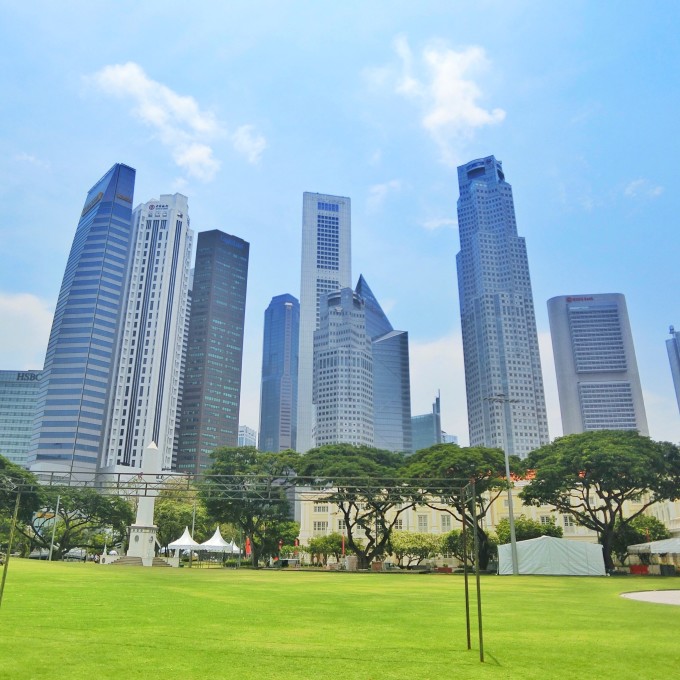 We walked back along Anderson Bridge Singapore, the other side of the river, gradually close to Merlion Park, across the sea and the Marina Bay Sands ArtScience Museum, at first glance, only this one building, too spectacular, so beautiful.
Thinking about the next day you can go to the top floor of the hotel overlooking the Hanging Gardens of Singapore , called a mood excited ah.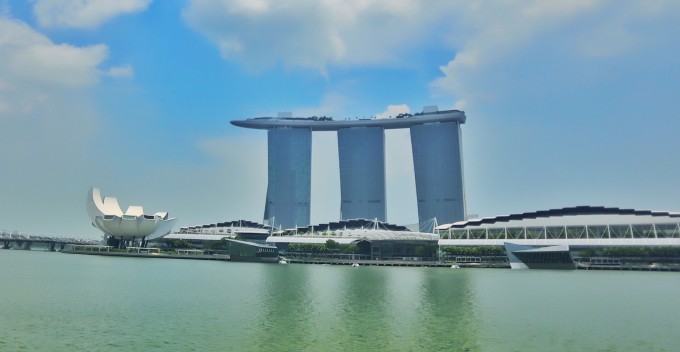 Marina Bay Sands Hotel Singapore
I asked Mommy to wipe several cards for me. After several selections, I left this looking back.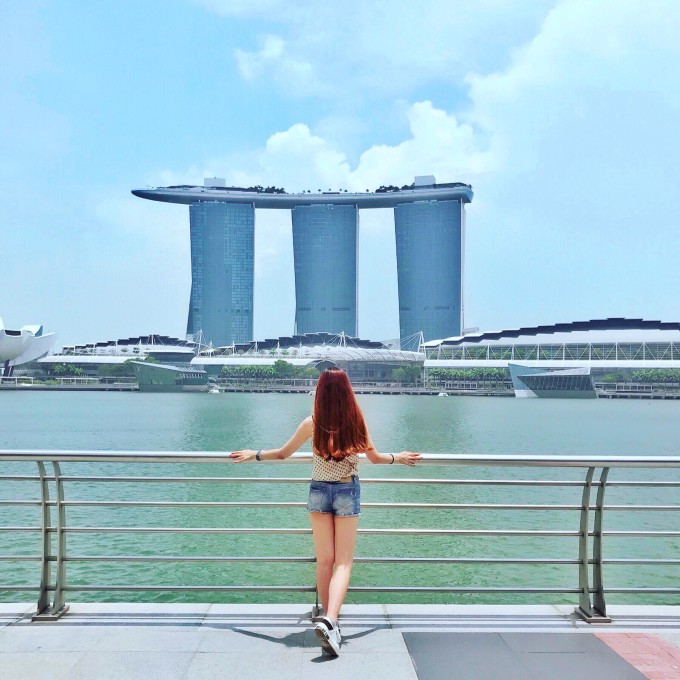 Marina Bay Sands Hotel Singapore
Along Singapore's walk you can see the Merlion Park, the river north.
Merlion Park is also Singapore 's must-see attractions, the thought of Singapore thought of Merlion. There is also a Merlion in
Singapore at Mount Faaba.
There should be very few people who have been to Huaba Mountain. It is a place where you can take pictures with the Merlion. This time it is not an in-depth tour, so it is naturally not included in the itinerary.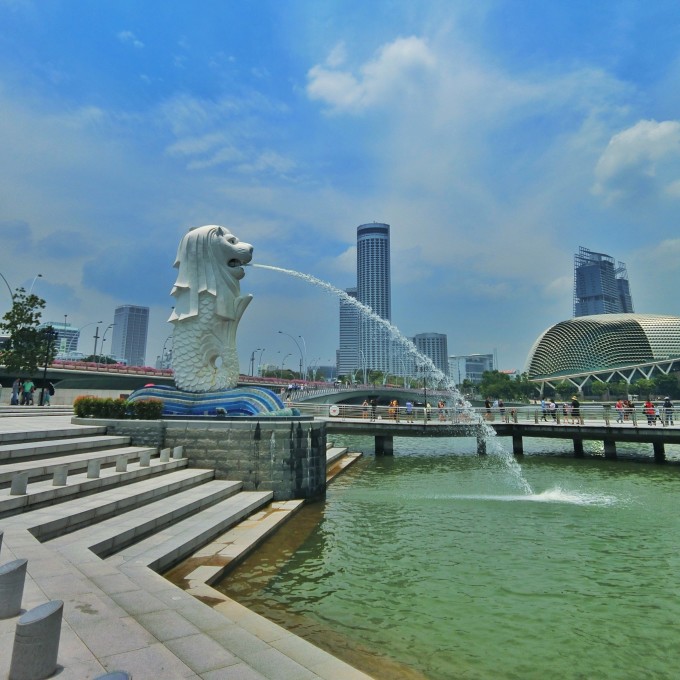 Merlion Park
I have to have a Merlion from all angles. I like the following angle the most. It should be a classic angle too.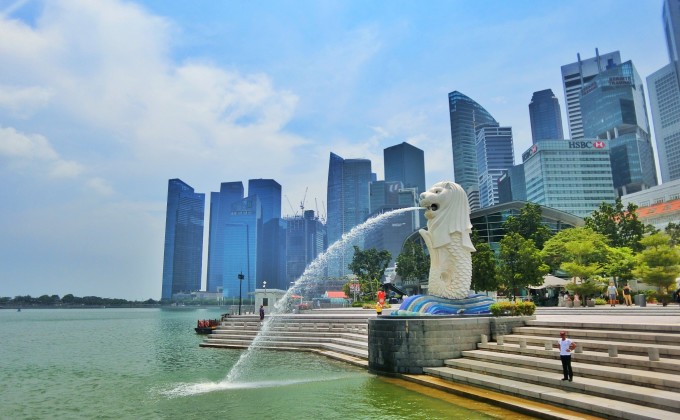 Merlion Park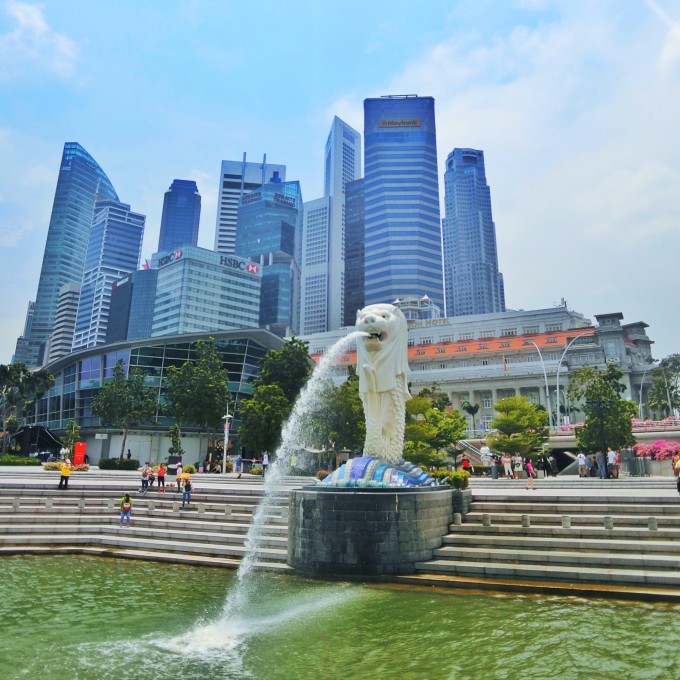 Merlion Park
Not far away, there is a 1⃣️ Merlion, who looks cute.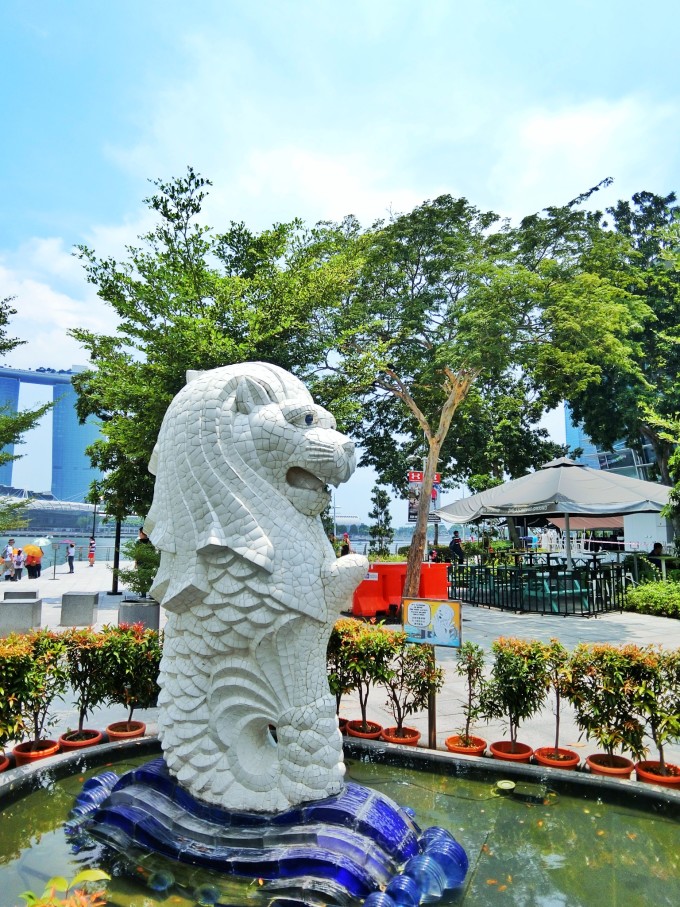 Merlion Park
And then look to the north, across the river is the Marina Center for the Arts, is nicknamed the Big Durian, went to Singapore did not eat durian is a pity, did not eat durian, leaving a nostalgia and look forward to next time it comes round again Wish.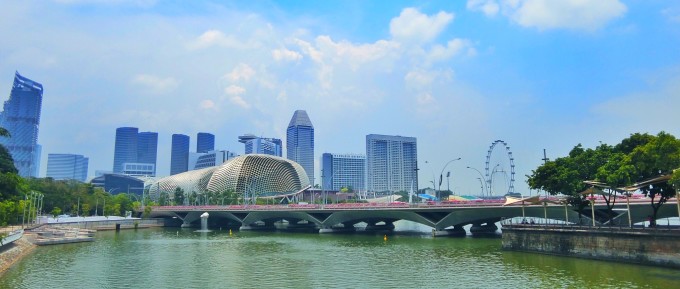 Esplanade Concert Hall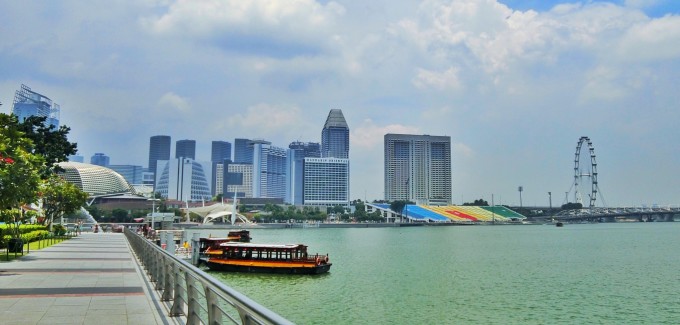 Esplanade Concert Hall
At this time, the sun has reached a hot level. Mommy and I patted and patted all the way. In many cases, I couldn't hold the umbrella, and my face was almost like a snake fruit. . . Seeing a bridge hole, I hurriedly hid and bought a freshly squeezed ice drink and sat to rest.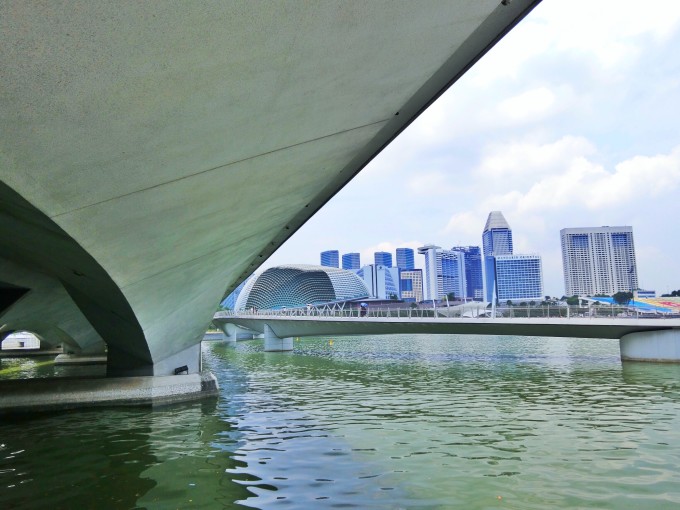 The weather is too hot, then continue to stroll down estimated to be burned, and my mom decided to avoid the hottest period of time, go to Yee Fengcheng around, just the night before a rough stroll down this afternoon and then to Yi Fengcheng avoid the summer months.
Stroll the circle Yi Fengcheng , also did not buy anything - just back to the hotel to rest, this time a bit peckish, suddenly remembered twelve in front flavor, and Kwai Lun Mei Tse called a special hotel in Hainan chicken rice, Nicholas said that this hotel is distinguished by Hainan chicken rice, it is to Hainan I went to this hotel for chicken rice. Of course I did not go to Nicholas Tse's hotel. I quickly called to ask the front desk, the hotel is really a meal, a tasty Hainan chicken rice after 15 minutes in to the room.
The chicken is very tender. Needless to say, there are two dipping sauces, one is chili sauce. Mommy likes it better, and the other is thicker soy sauce. I like it very much. The rice also has the flavor of chicken, the color is slightly yellow, and every grain of rice is very clear.
To Singapore in particular saw before twelve in front flavor and Kwai Lun Mei in Singapore that sets, which introduced quite a few delicious, Bak Kut, Hainan chicken rice, laksa, chilli crab, Sands Hanging Gardens hotel breakfast, Nicholas Tse and Kwai Lun Mei also done a waiter for hotel guests ordering the delivery, had wanted Looking back on the track of Nicholas tasted Singapore food, but the program in some remote places, traffic is not very convenient, it not particularly look for, but these Singapore features, but I have tasted of. A recent Southeast very cold food, something more to say.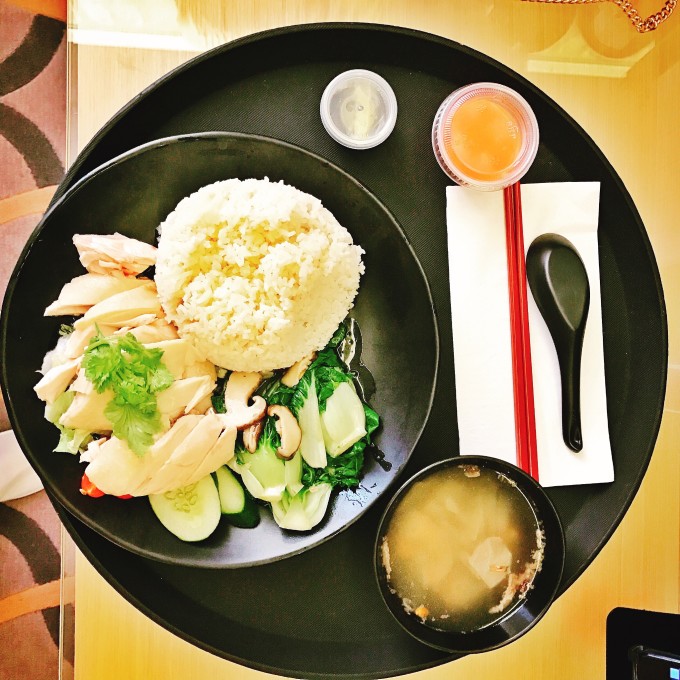 Dorsett Singapore
After the first dinner, always feel that not enough fun, then went to the Royal Terrace visited during the day, in addition to Hong Kong-style dishes, there are also some fusion Singapore features such as the following this road oatmeal shrimp, a bit like Shanghai typhoon shelter shrimp , But the bread on top of the shrimp is oatmeal, and it is crunchy and delicious. The prawns are fresh and slightly sweet. The oatmeal prawns are also very sweet. I also ordered a lemongrass cod. The combination of the special spice of lemongrass and cod is the first time I tasted the grilled cod. It is delicious and very tender, with the special taste of lemongrass, which has a special flavor.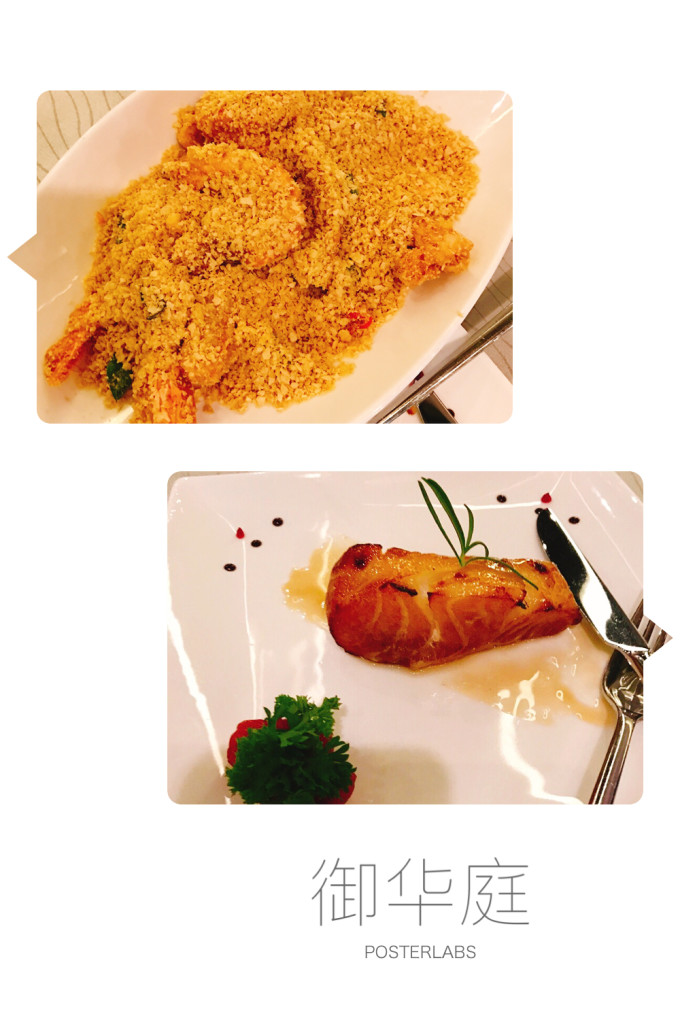 In the evening, the itinerary is to visit Orchard Road. The impression of Orchard Road is an extremely luxurious place, with huge neon signs, wide roads, passing vehicles, and crowds of people. But in fact, I did not imagine so tall, perhaps used to seeing Shanghai flashy modern, Orchard Road, in fact, also much better than this.
WuJie Road
Xiaoxiang is as low-key as always, and the light of the LOGO is so dim.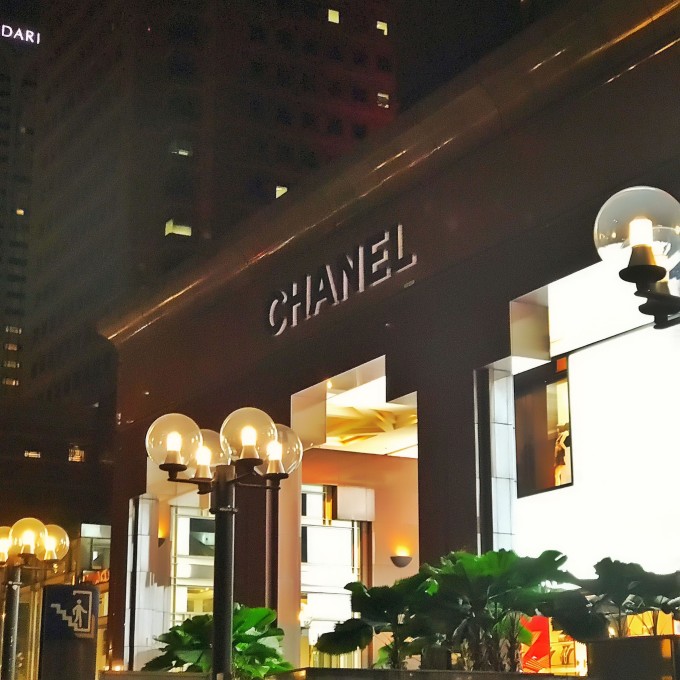 WuJie Road
Day 4-Marina Bay Sands Hotel, a perfect night
Is still comfortable to sleep to get up, packed boxes, check-out, go to the Sands !
Sands that night is my impression that Singapore that looks like.
As soon as I arrived at the hotel, a waiter came up to pick up my luggage. The hotel had to check in at 3 o'clock in the afternoon. Luggage could be stored in the hotel and delivered to the room automatically after check-in. The hotel was really thoughtful.
The hotel lobby is powerful and domineering, there is an air corridor leading to the Marina Bay gardens.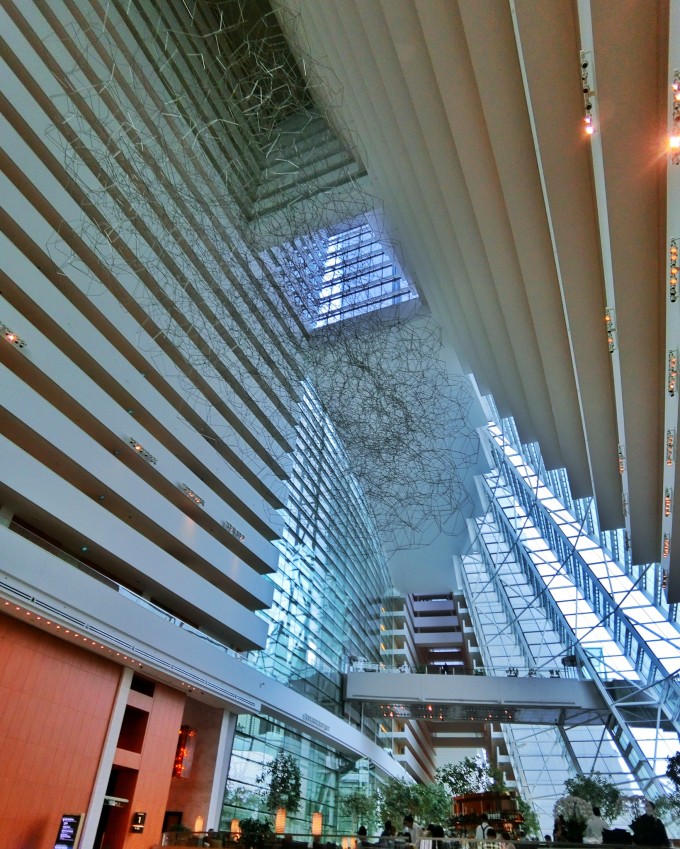 Marina Bay Sands Hotel Singapore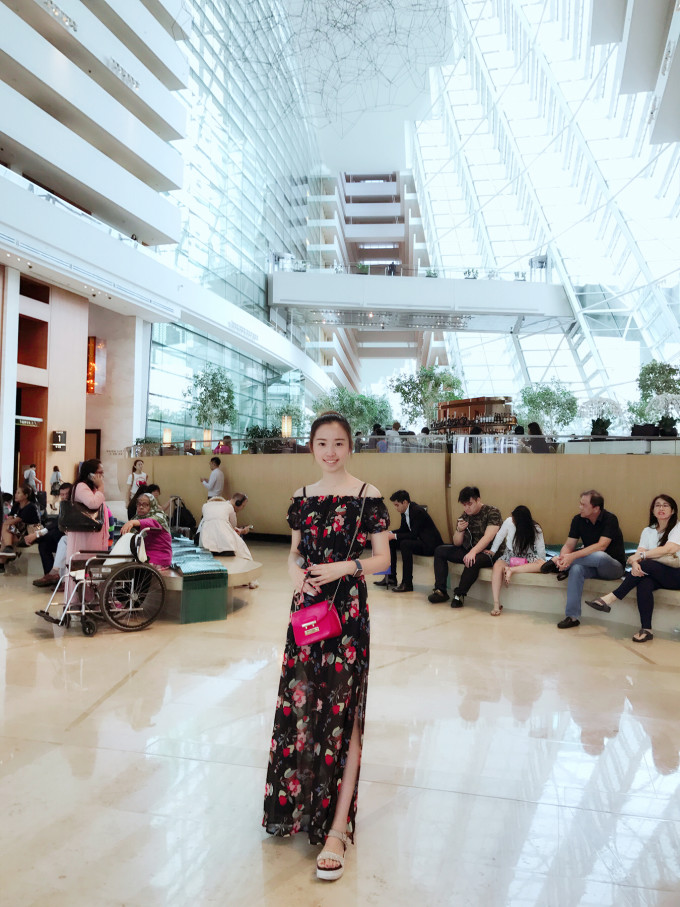 Marina Bay Sands Hotel Singapore
The first floor of the hotel is Lobby. There are three buildings. Check in Tower 1 and Tower 3 respectively. Needless to say, the deluxe room must be checked in Tower 1.
Basement and ground floor are stores and beauty food, B1 is a luxury line, B2 on some common, some not brand store, you can buy some souvenirs.
This can be regarded as a landscape. Water will leak from the ball above it, like a waterfall. I didn't wait for the time, so I didn't see it.
The hotel is very big, there is also a casino, and the casino can't take pictures. My mom and I were not interested and didn't go in.
After shopping around B1 and B2, I won't tell me what to look for, anyway I can't find it! Baby meat is not smoked!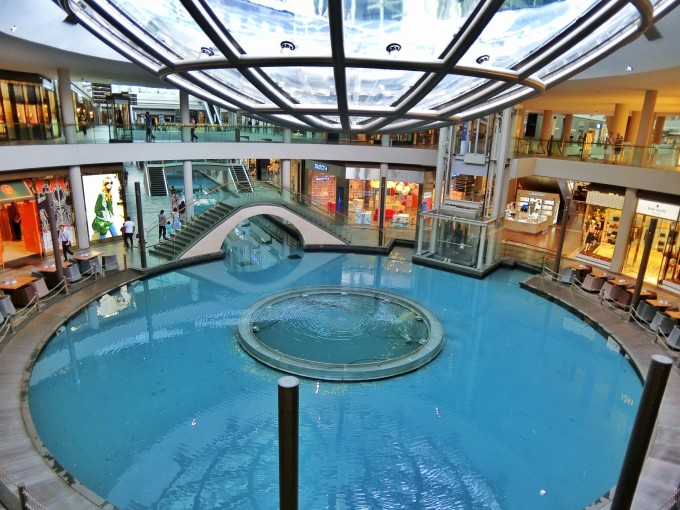 Marina Bay Sands Hotel Singapore
After the hottest period of time, we started to go Wangwaimian, decided to go to Marina Bay Gardens, take a look at the dyke trees .
When it comes to luxury and high-profile, it must be LV.
The huge LV Logo can be seen everywhere.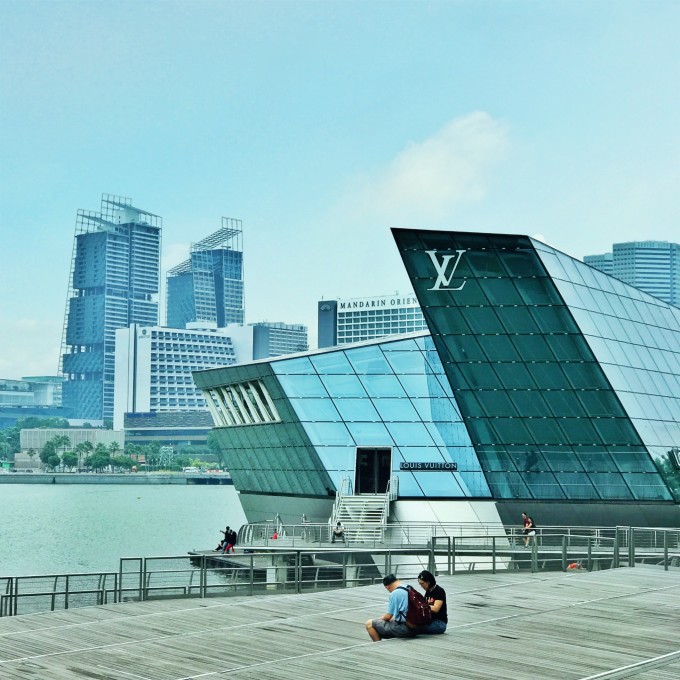 Marina Bay Sands Hotel Singapore
The view of Marina Bay is also stunning. Today is cloudy weather, although the photo effect is a little bit inferior, but it is very comfortable to stroll around.
Marina Bay Sands Hotel Singapore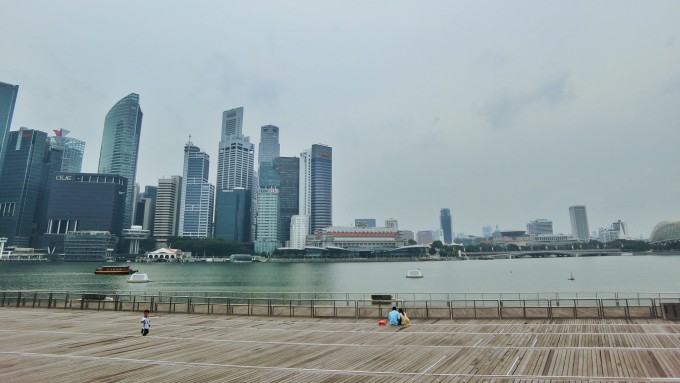 Marina Bay Sands Hotel Singapore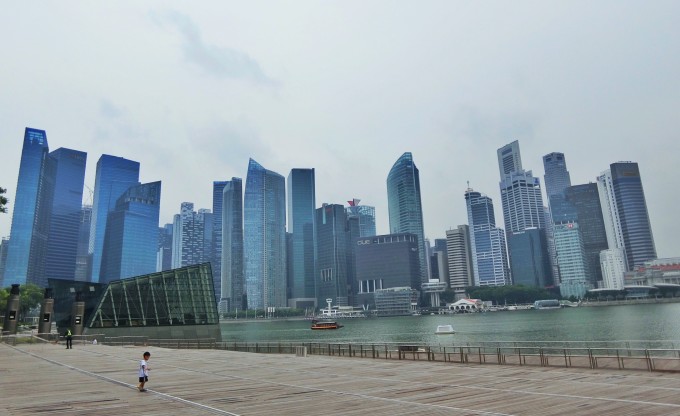 Marina Bay Sands Hotel Singapore
Garden Bay Bridge connects the hotel and Marina Bay Gardens.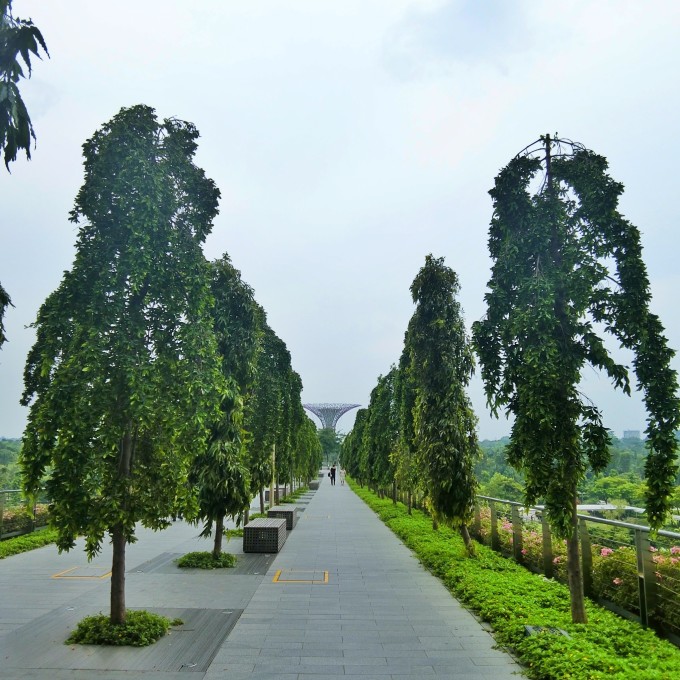 Close look from all angles Sands Hotel, you can still see the Ferris wheel in the distance.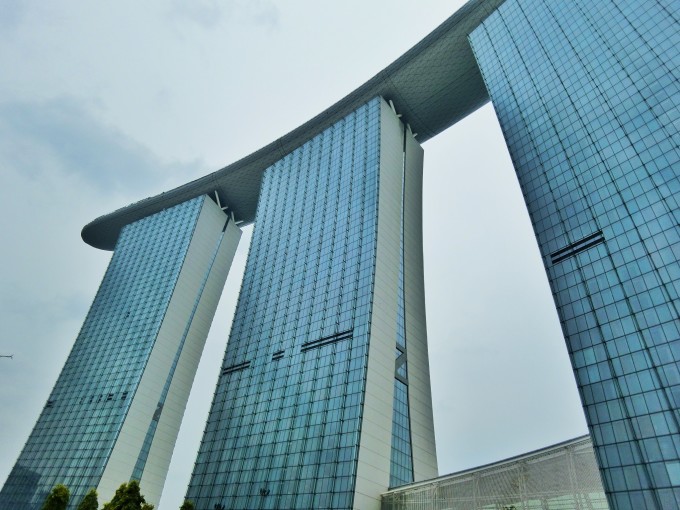 Marina Bay Sands Hotel Singapore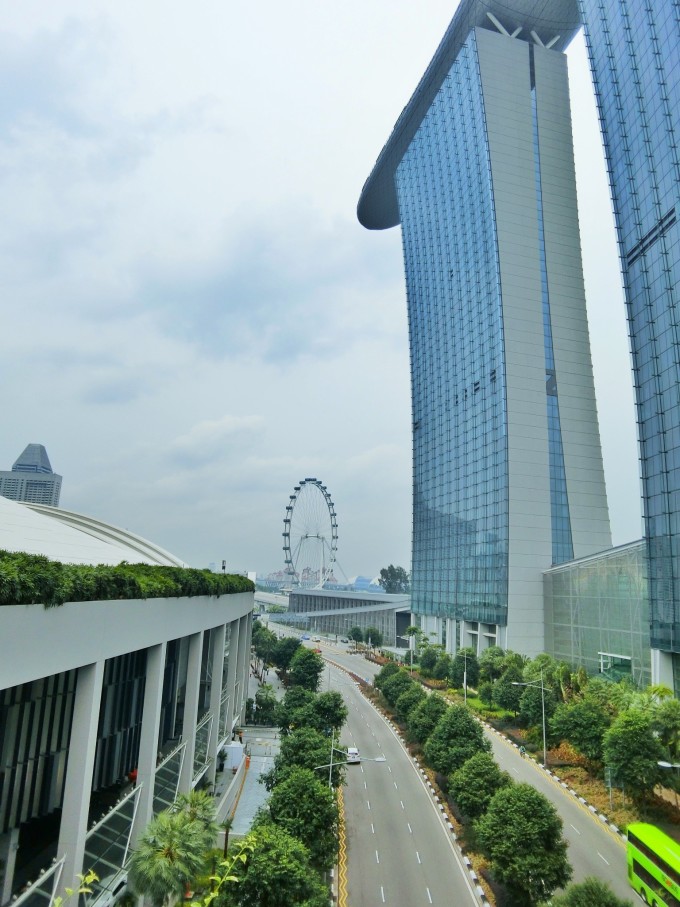 Marina Bay Sands Hotel Singapore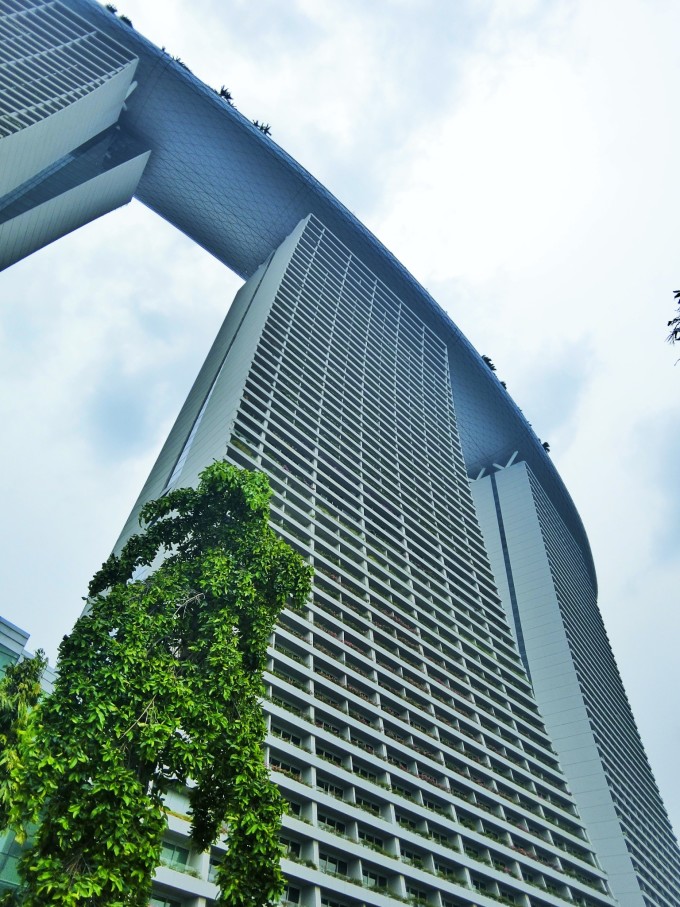 Marina Bay Sands Hotel Singapore
Singapore Ferris wheel.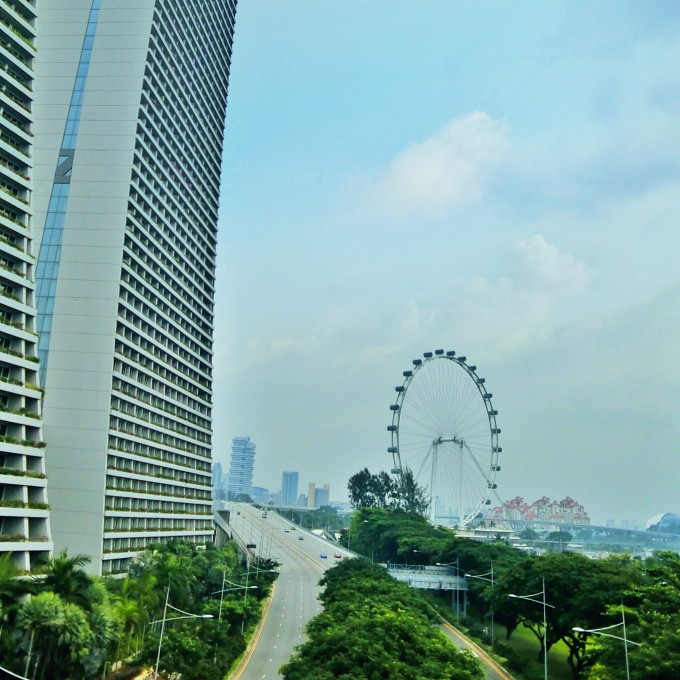 Singapore Flyer
I have always felt that portrait photos during travel are far more important than just landscape photos, just like a person who appreciates the beautiful scenery is not as good as going to the ends of the world with the right one.
Hard work, Mommy, has been helping me kakaka, in fact, I also helped Mommy take a lot of photos, haha.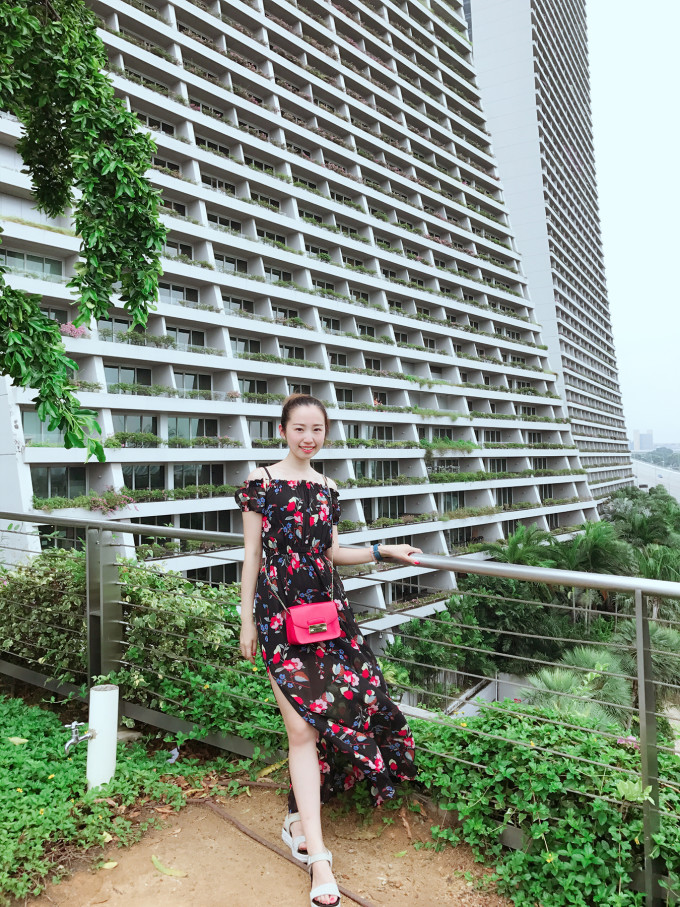 Very wide field of vision on both sides of the bridge, in addition to the huge Sands outside the hotel, there is no other high-rise a.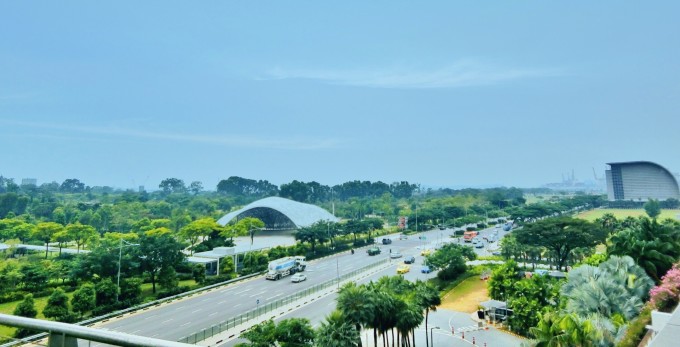 Atlas can already see the distant tree , look under the tree even more spectacular.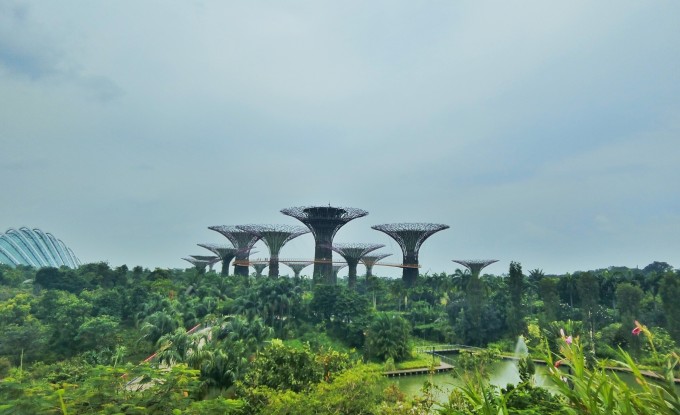 Singapore Gardens by the Bay
Two cold rooms can be seen. Later, I chose a cold room with Mommy to visit.
Singapore Gardens by the Bay
When you come to Super Tree, these super trees are actually 16-story vertical gardens. You can also have a bird's eye view of the entire garden from the top of the tree. In addition, the super tree also has a number of practical functions: collecting rainwater, generating solar energy and acting as a ventilation duct for the park greenhouse.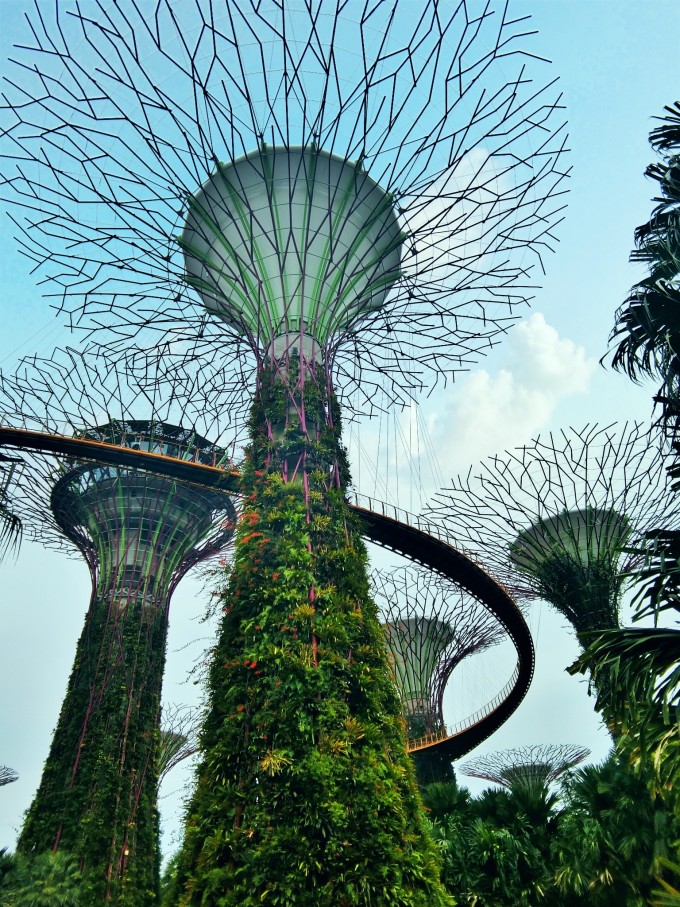 Singapore Gardens by the Bay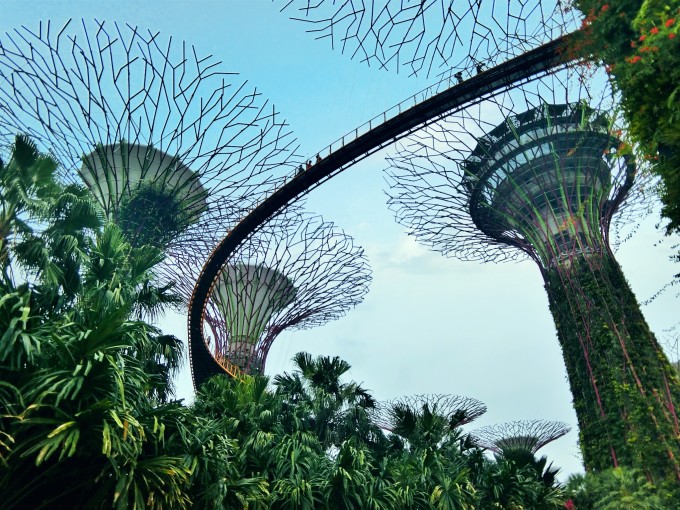 Singapore Gardens by the Bay
I really like the angle of this photo, which combines Super Tree and Marina Bay Sands.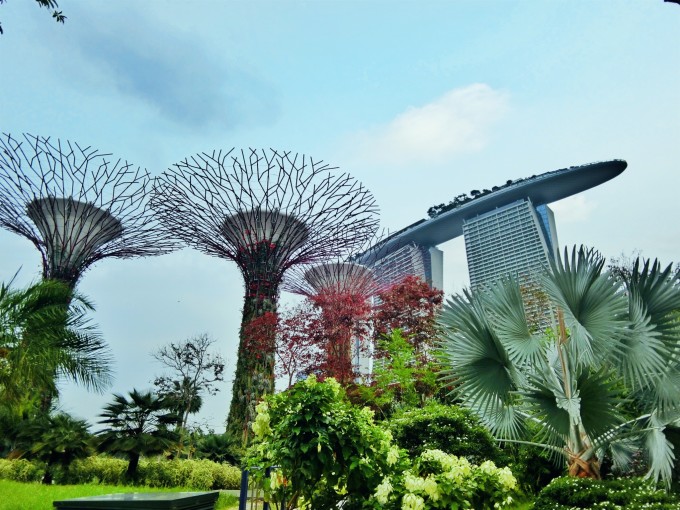 Marina Bay Sands Hotel Singapore
Marina Bay Gardens, a total of two cold room, Flower Dome (flower dome) and Cloud Forest (cloud forest), Flower Dome is the theme of the garden, planted with plants from five continents, Cloud Forest can enjoy the tropical rainforest humid climate, and my mom Mi visited the Flower Dome and saw a waterfall inside the cold cloud forest. If you have time, I suggest you visit both.
Enter into a cold room as if the world outside the Taoyuan , and may be related to the temperature plunged, the entire cold room is wrapped in a huge glass case, open the door to the cold room, eyeful flowers and green plants greets, kindness pleasing to the eye, suddenly felt the mood Beautiful. The temperature inside is estimated to be around 15-20 degrees, and it is quite cold after wearing short sleeves for a long time. According to the distribution of cold room is distinguished throughout the world, such as this one area is from Australia , and another area from New Zealand Yes, there are some wood-carved animals for decoration, which is very special.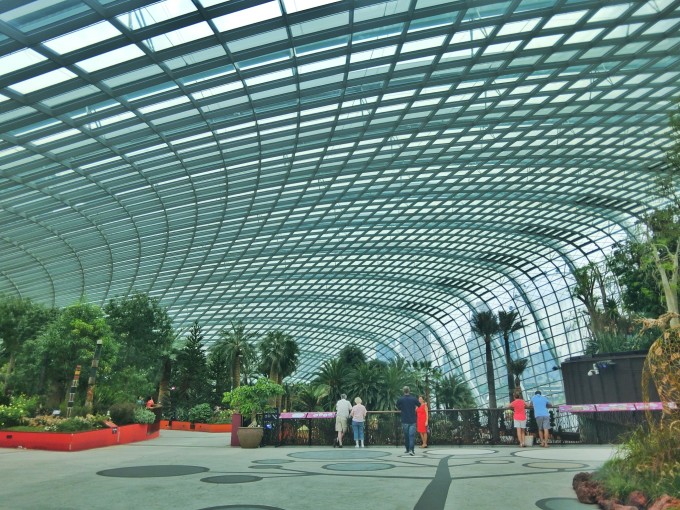 Singapore Gardens by the Bay
My name is Rourou. Shouldn't I take a photo with the huge Succulent? Succulent and Succulent are more suitable.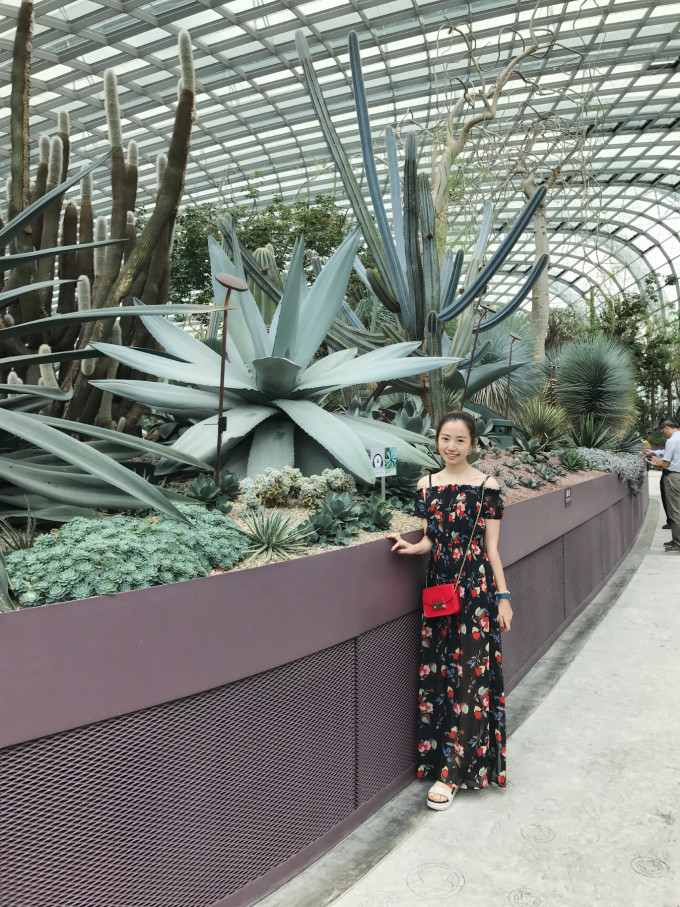 Singapore Gardens by the Bay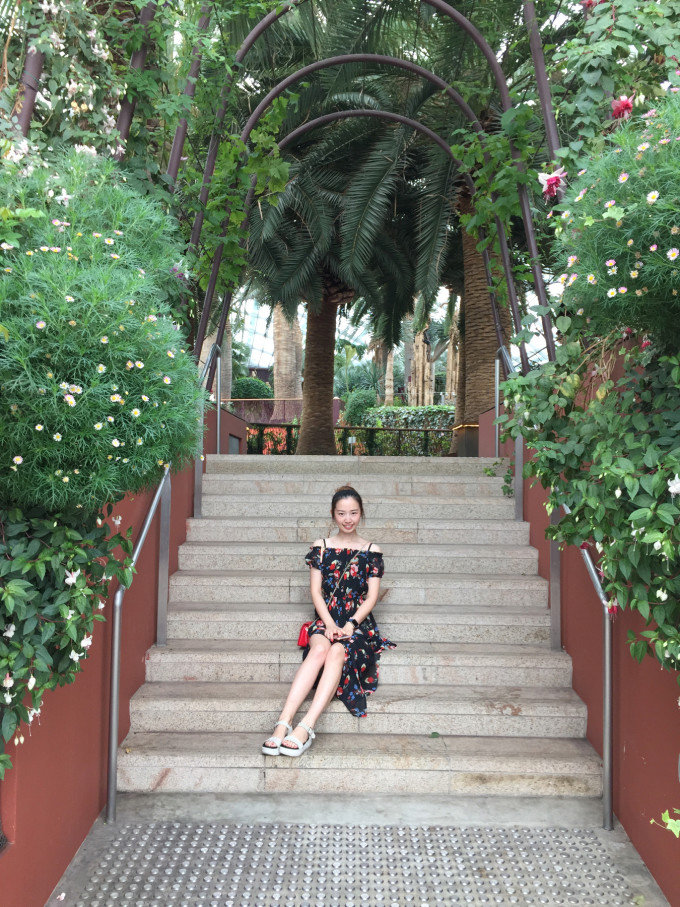 Singapore Gardens by the Bay
Panoramic view of the cold room side.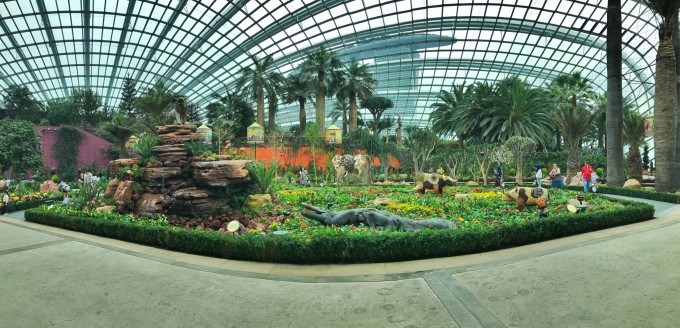 Singapore Gardens by the Bay
Looking at the Ferris wheel from the cold room, it's a small pity that I couldn't ride the Ferris wheel.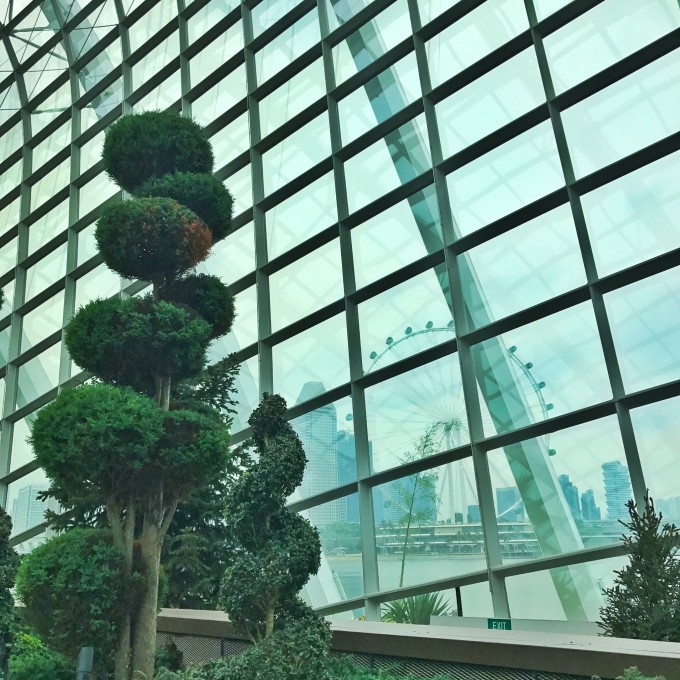 Singapore Gardens by the Bay
It was almost three o'clock after I came out of the cold room, and I was finally able to check in to the hotel. I hurried back to the hotel and checked in. Our room was on the 29th floor and the scenery outside the window was unparalleled.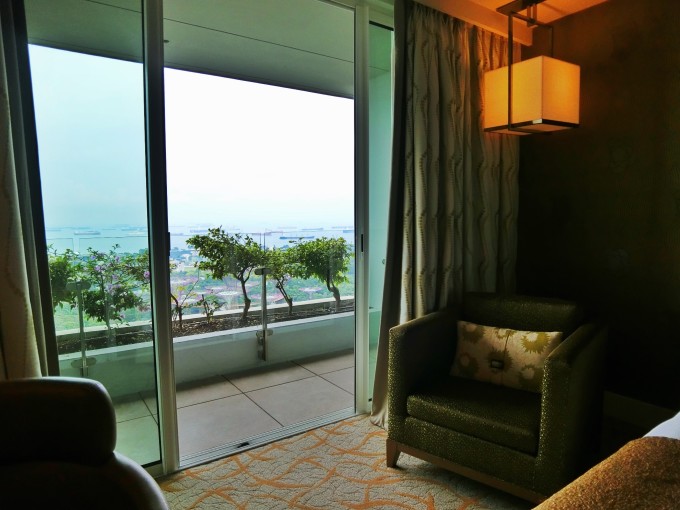 Marina Bay Sands Hotel Singapore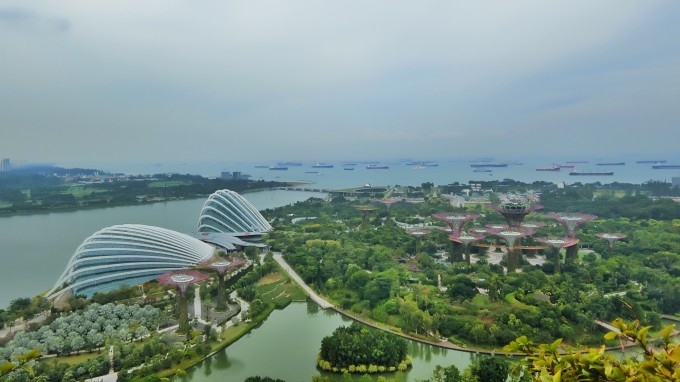 Marina Bay Sands Hotel Singapore
I used this to make a head picture, which is spectacular.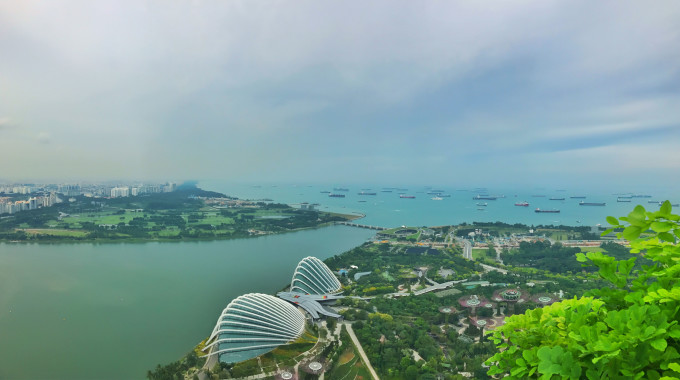 Marina Bay Sands Hotel Singapore
The infinity pool on the top floor of the Sands Hotel couldn't be more famous. The sky garden on the top floor is divided into two areas. The viewing platform is available for all visitors to visit. You only need to buy tickets. Of course, it is free for hotel guests. The infinity pool is only available to the hotel. Residents are open.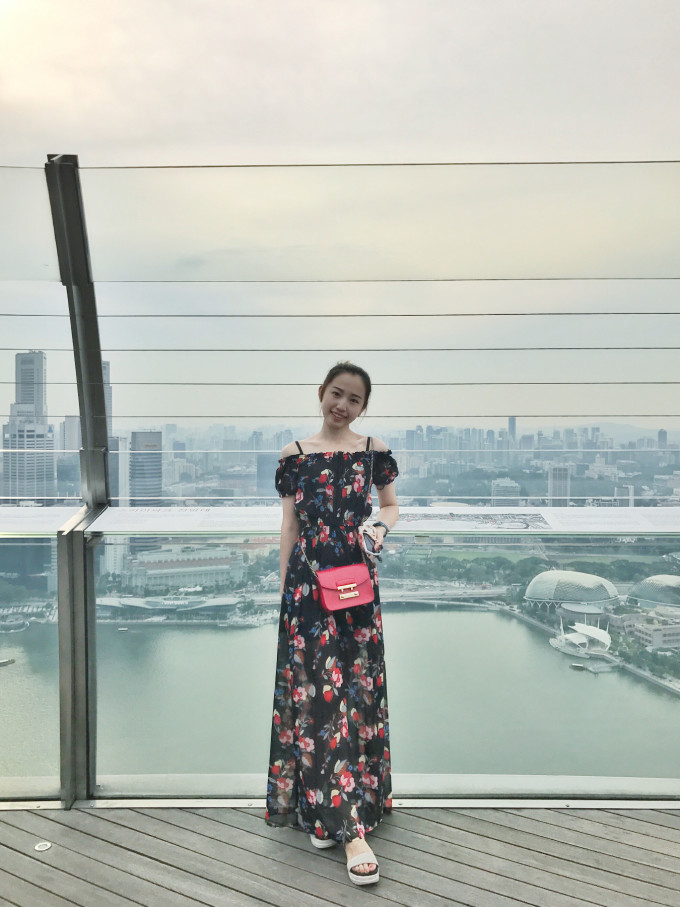 Marina Bay Sands Hotel Singapore
Marina Bay Sands Hotel Singapore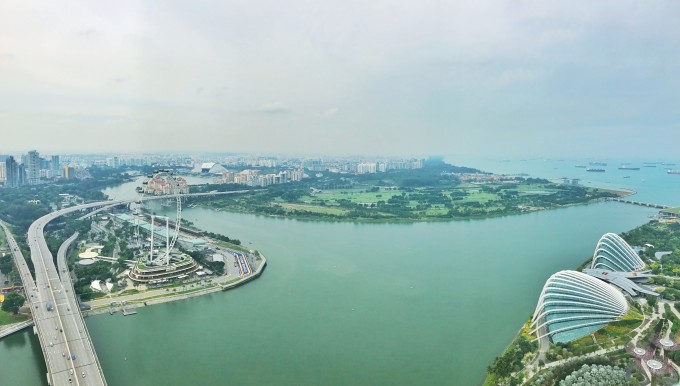 Marina Bay Sands Hotel Singapore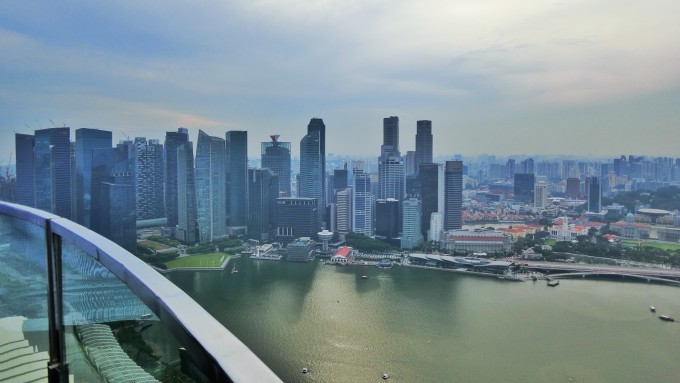 Marina Bay Sands Hotel Singapore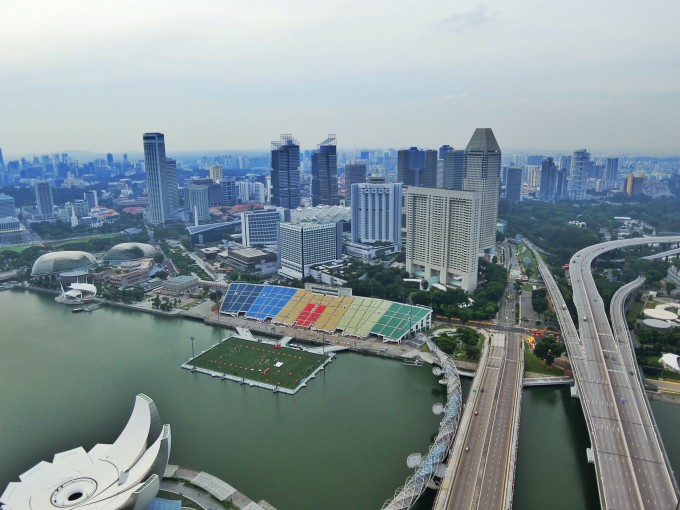 Marina Bay Sands Hotel Singapore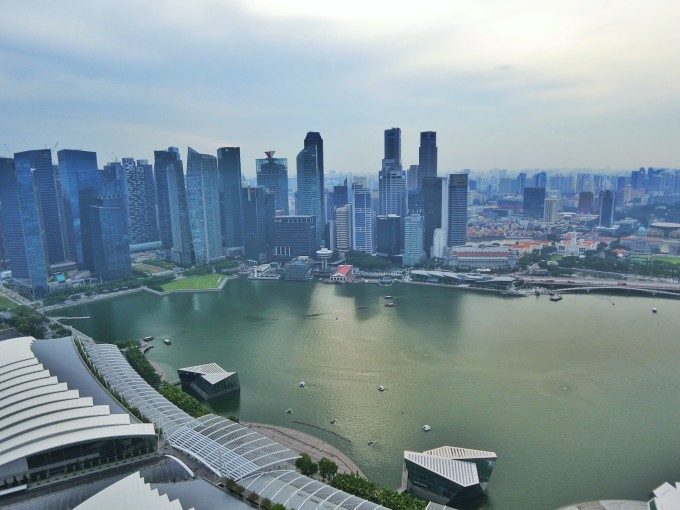 Marina Bay Sands Hotel Singapore
Marina Bay under the sunset light.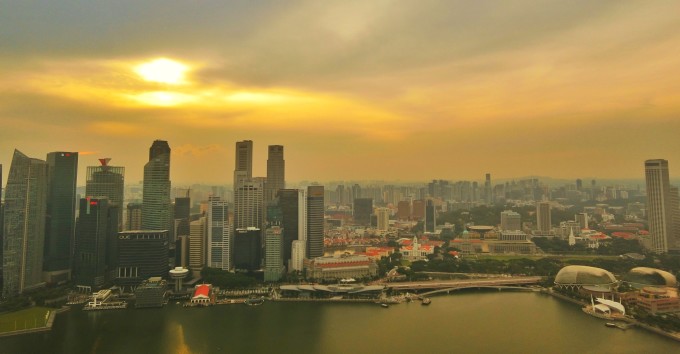 Marina Bay Sands Hotel Singapore
As night fell, after dinner, Mommy and I decided to go to Super Tree to see the night scene.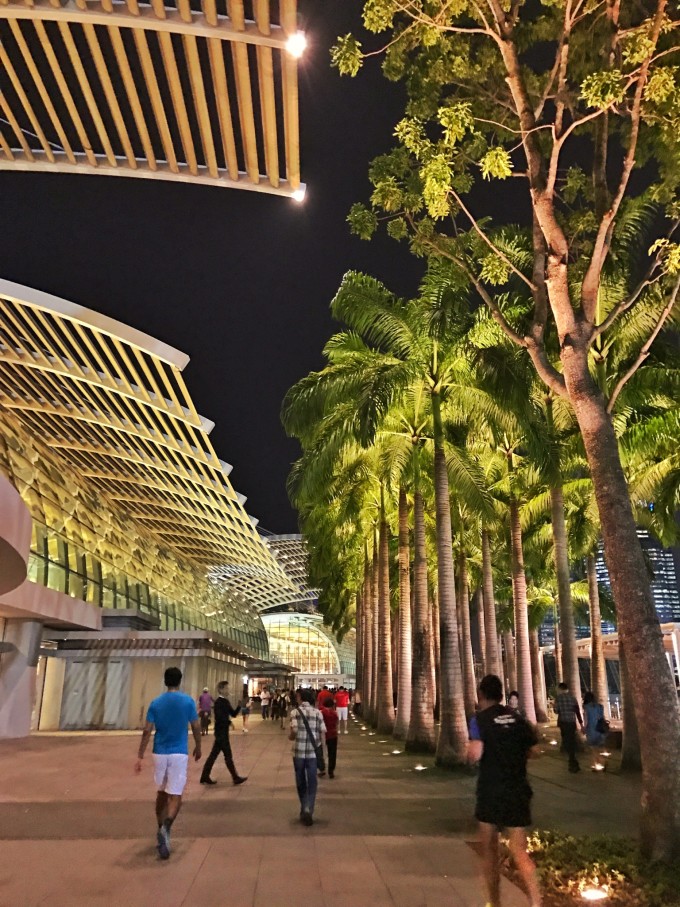 Marina Bay Sands Hotel Singapore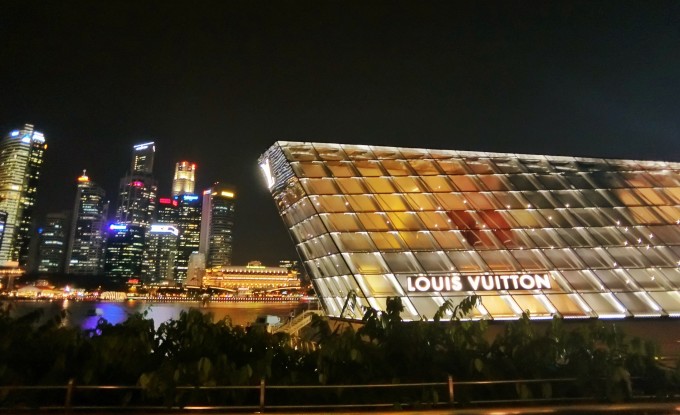 Marina Bay Sands Hotel Singapore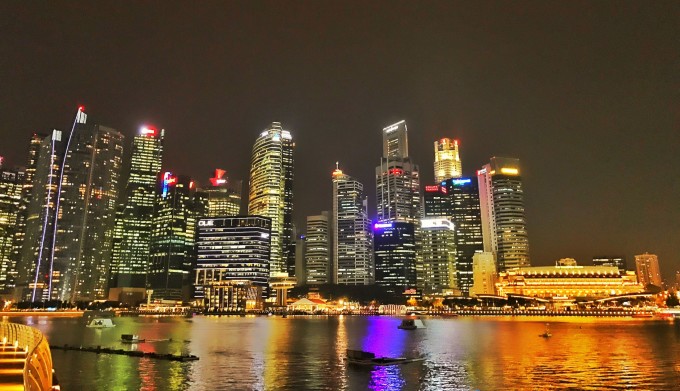 Marina Bay Sands Hotel Singapore
Went to Marina Bay, I noticed a lot of people sitting on wooden stairs as if waiting for what the show and asked to know it was water screen stereo projection light show -Wonder Full.
It's a coincidence that I didn't make a special time to see it. There are two shows every night: 20:00 and 21:30, and there is another show at 23:00 on Friday and Saturday, which is definitely not to be missed. The show, especially the "What a wonderful wold" at the end, makes you feel that the world is really beautiful. You should be grateful to be able to enjoy a wonderful performance with your mom on such a beautiful night.
Super Tree is also a light and music show. The camera at night is not so powerful, and it fails to capture the dazzling feeling.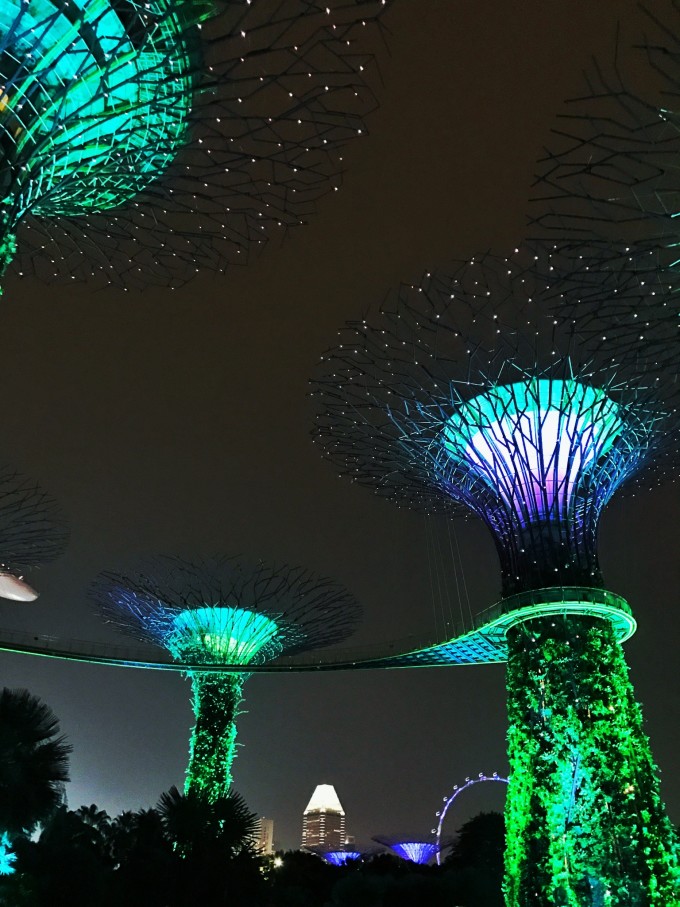 Singapore Gardens by the Bay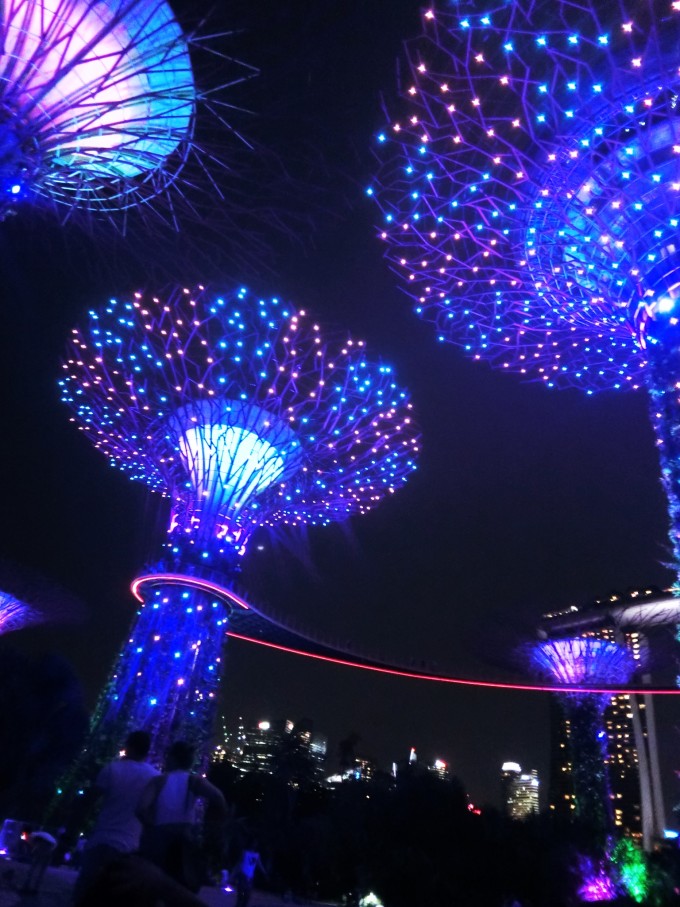 Singapore Gardens by the Bay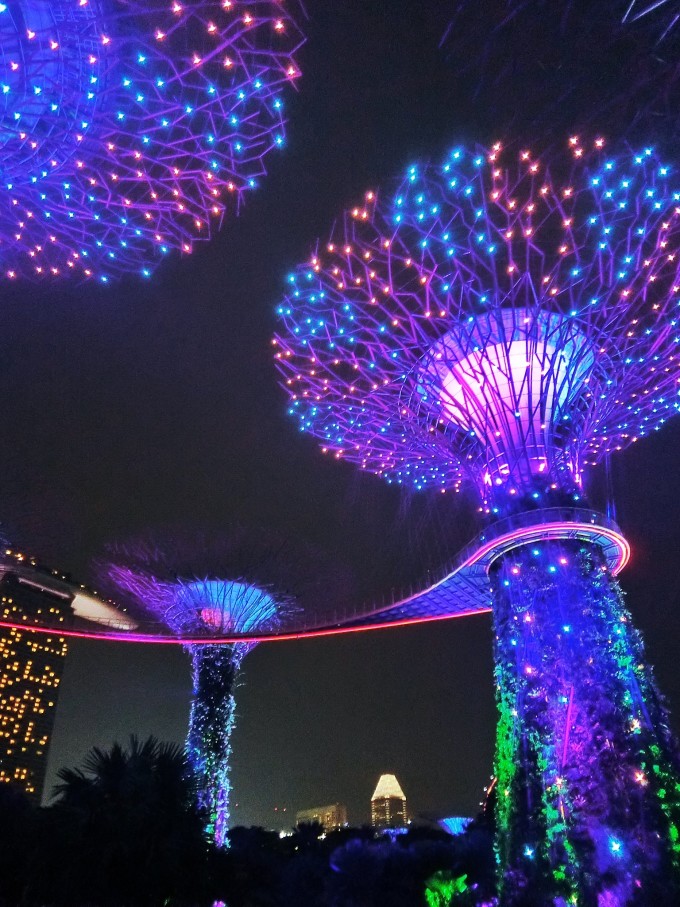 Singapore Gardens by the Bay
I still miss the hotel's sky garden. After returning to the hotel, we went up to the 57th floor.
The micro-single finally came in handy. I found a fixed point and automatically measured the light at a fixed aperture, and the following night scene was created.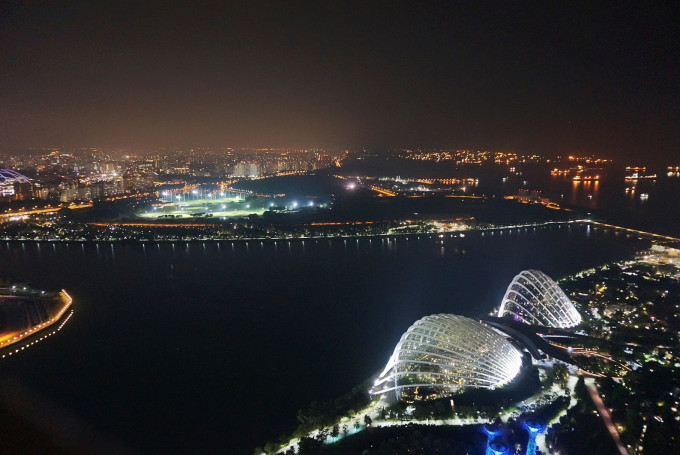 Marina Bay Sands Hotel Singapore
I took the photo by the infinity pool, holding the iPhone, crossing the pool to the edge, just to keep the beauty of this moment forever.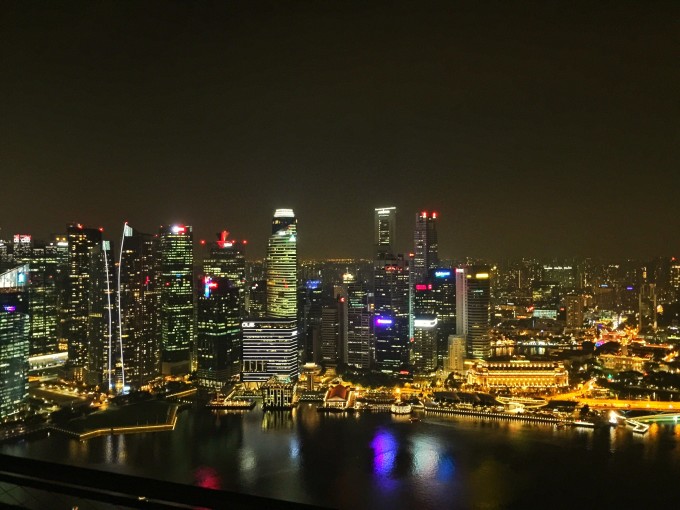 Marina Bay Sands Hotel Singapore
It's late at night, I'm going to rest, good night.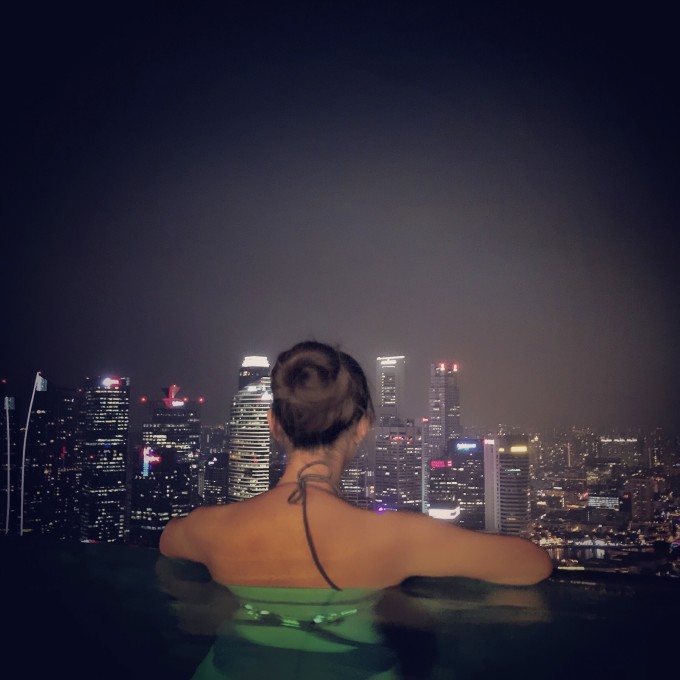 Marina Bay Sands Hotel Singapore
Day 5-Looking forward to coming again next time
Nostalgia will end one day. Only when this journey ends will the next better journey begin.
After checking out, I went to the airport and found Yakun Kaya Toast at the airport, which was the last item on the food list.
The kaya toast is very crunchy, sweet and very suitable for breakfast, Singapore coffee milk tea is more flavorful, and the hot spring egg is a surprise. It is delicious to eat with soy sauce.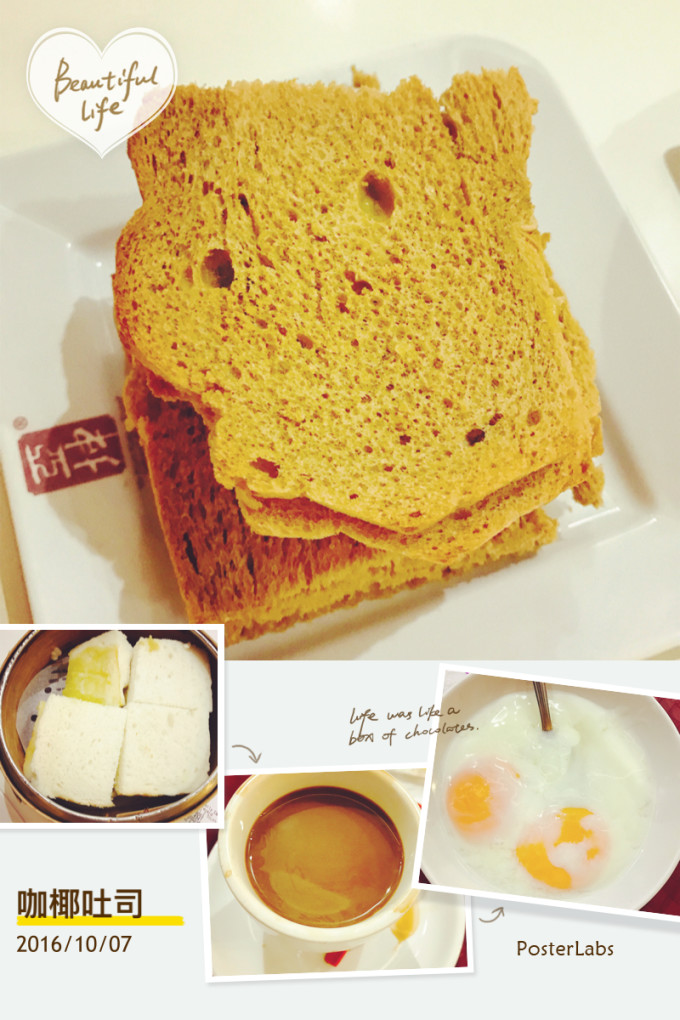 Marina Bay Sands Hotel Singapore
Wutiansiwan the Singapore trip to this end, this is my first travel to travel abroad, spent two nights retouching pick, spent three nights codeword row graph examination, is that those who write After 15 days of travel, the little friend who has hundreds of photos is so swollen, I want to make persistent efforts and leave a travel note every time I travel.
Looking forward to once again Singapore .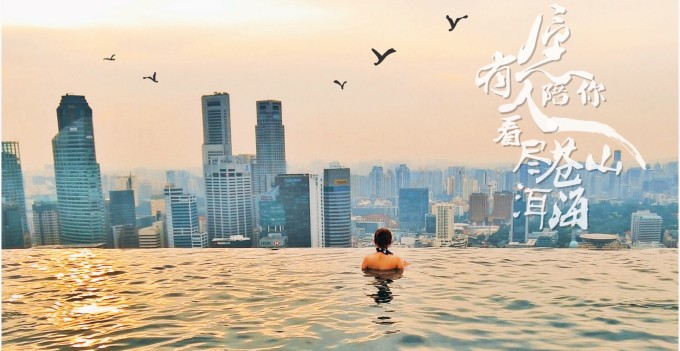 Singapore